I'm so excited to share our holiday home tour with you all today! Yay! This is our first Christmas in our new home so I started decorating early (hello early November!) as I really didn't know how I was going to decorate an entirely new space! I didn't buy all that much this year. I did splurge on my Magnolia trees sign that is seen above my mantel. It was the focal point for our fireplace decor and love how it came together! Trees galore!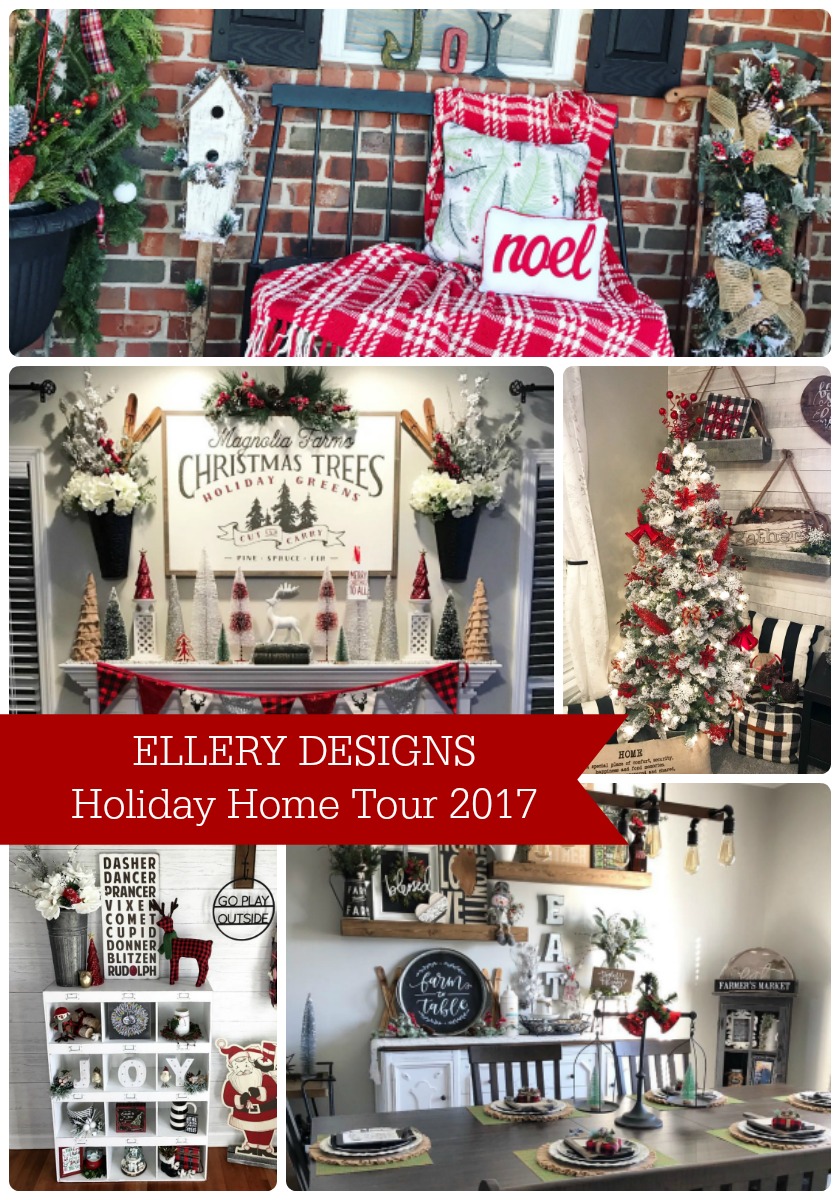 Living Room
My favorite room has to be our living room since it holds our mantel and this cozy corner that holds my new flocked tree! I've always wanted a flocked tree and finally caved and bought this beauty from Walmart. I added a few red and white ornaments and snowflakes which are all from Walmart and Hobby Lobby.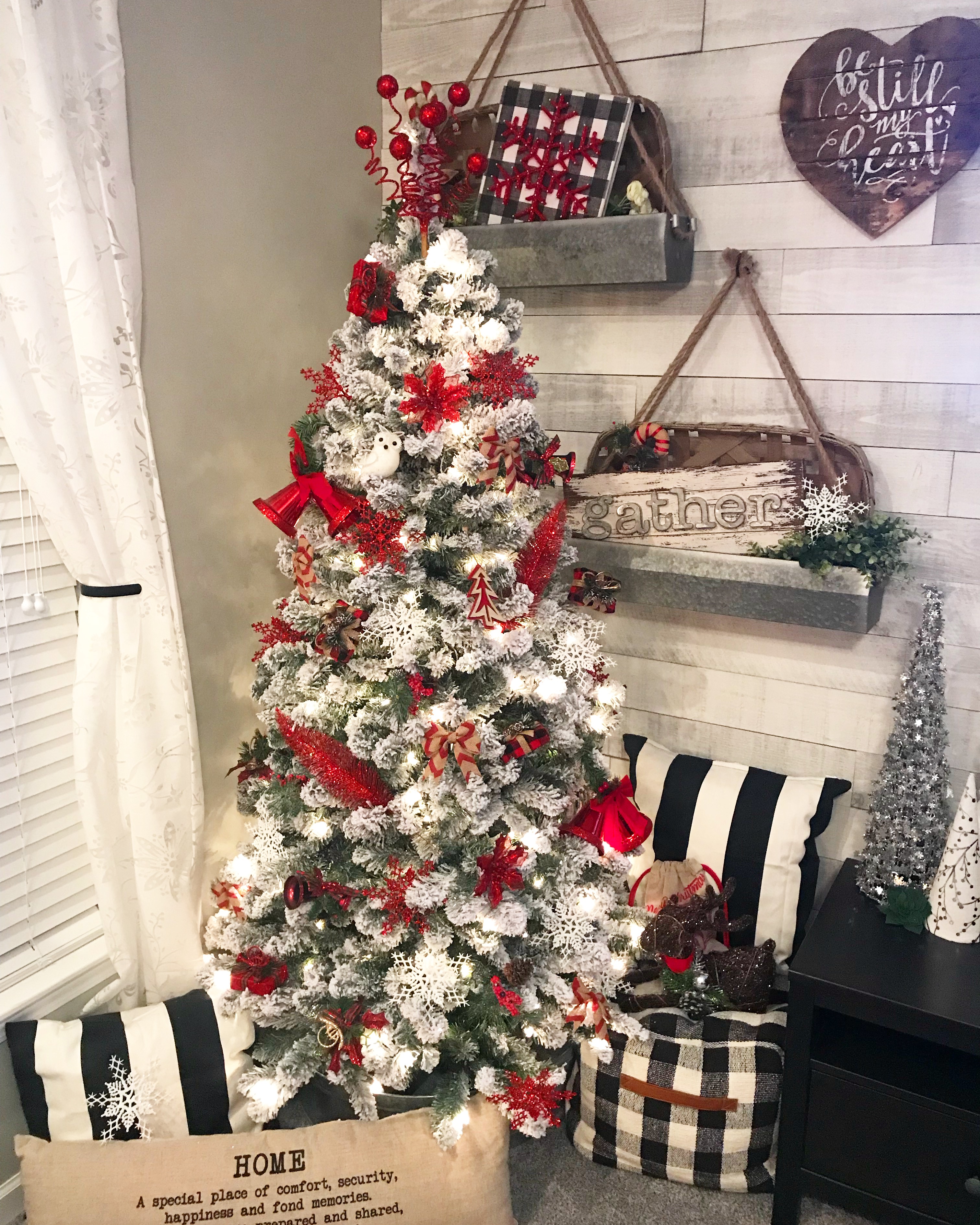 SOURCES: Tree: Walmart // Black and White Striped Pillows: IKEA // Plaid Pouf: Target // Home Pillow: Urban Farmgirl // Wood Wall: Timberwall // Be Still My Heart Sign & Gather Sign: Hobby Lobby // Plaid String Snowflake Sign: A Bit of Beck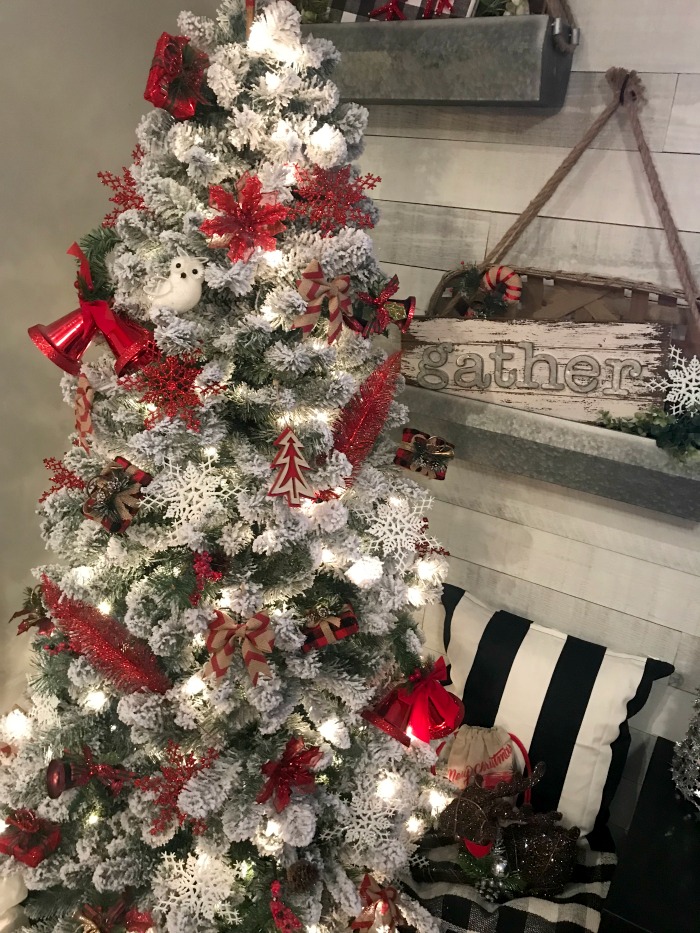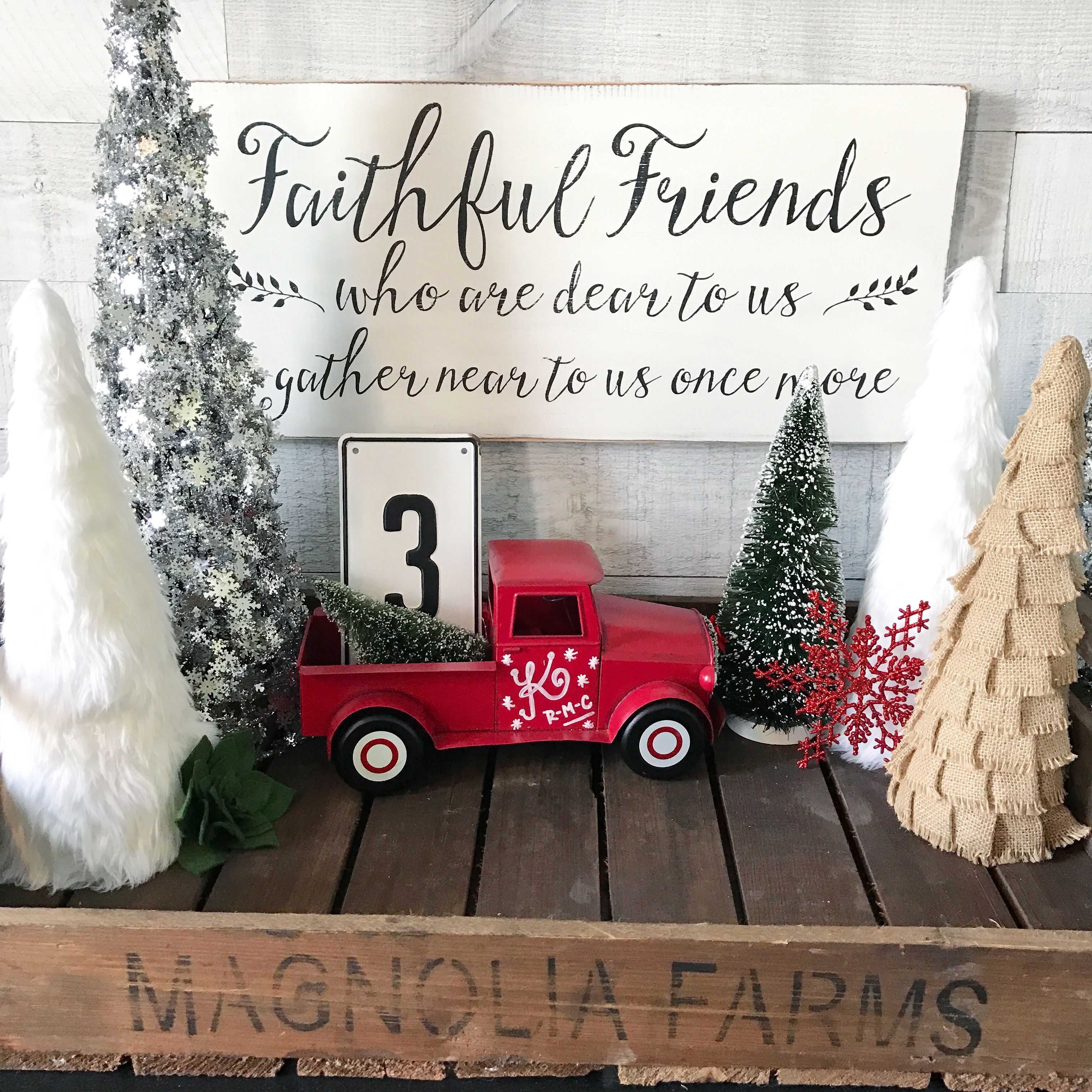 Sources: Faithful Friends Sign: Barn Owl Primitives // Magnolia Farms Tray: Magnolia // Truck, Burlap Tree & Green Bottle Brush Tree: Target  // White & Silver Trees and 3 Sign: Hobby Lobby
My mantel decor turned out way better than I even imagined! I had most of the trees from last year except for the new white and red striped bottle brush trees from Michaels.
Entryway
Moving forward to the entryway…..this cubby is my FAV thing to decorate for each season. I scored this beauty at Urban Farmgirl (my favorite local shop in Rockford, IL) Each square is quite large so it does hold good size items which makes it easier to decorate and style!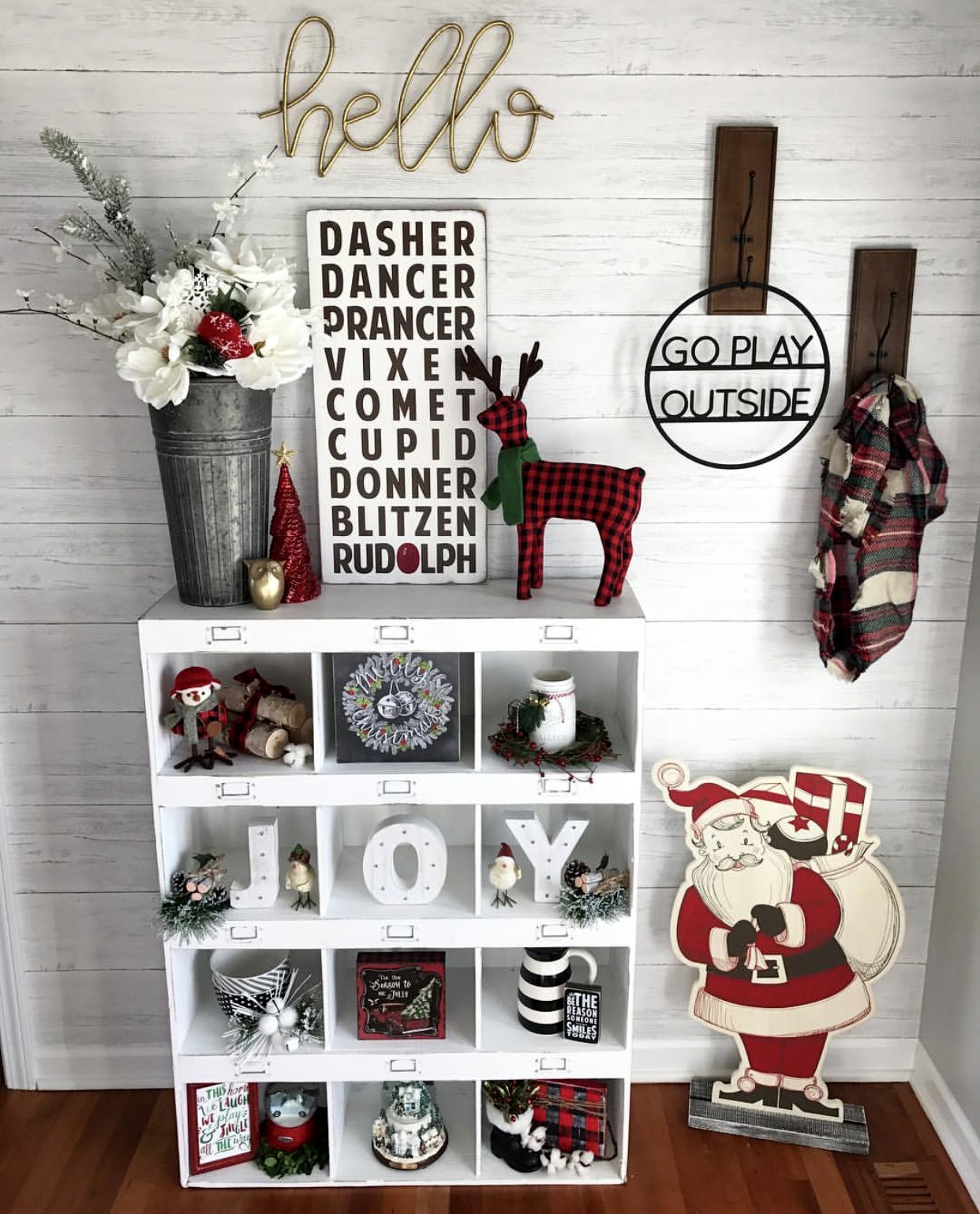 Sources: Cubby: Urban Farmgirl // Wall Hooks: Target // Go Play Outside Sign: Copperleaf House // Reindeer Sign: Barn Owl Primitives // Gold Hello Sign/Galvanized Bucket with Flowers: Michaels // Plaid Reindeer: Target // JOY Marquee Letters: Michaels // Santa: Devanie at Home // Peel and Stick Shiplap Wallpaper: Wallpops

Dining Room
Our dining room was my final spot to decorate! It threw me for a loop because I was running out of decor and kind of just put what was left in here. I plan to focus on this space more next year but for now, this works doesn't it? Hopefully you say yes! 😉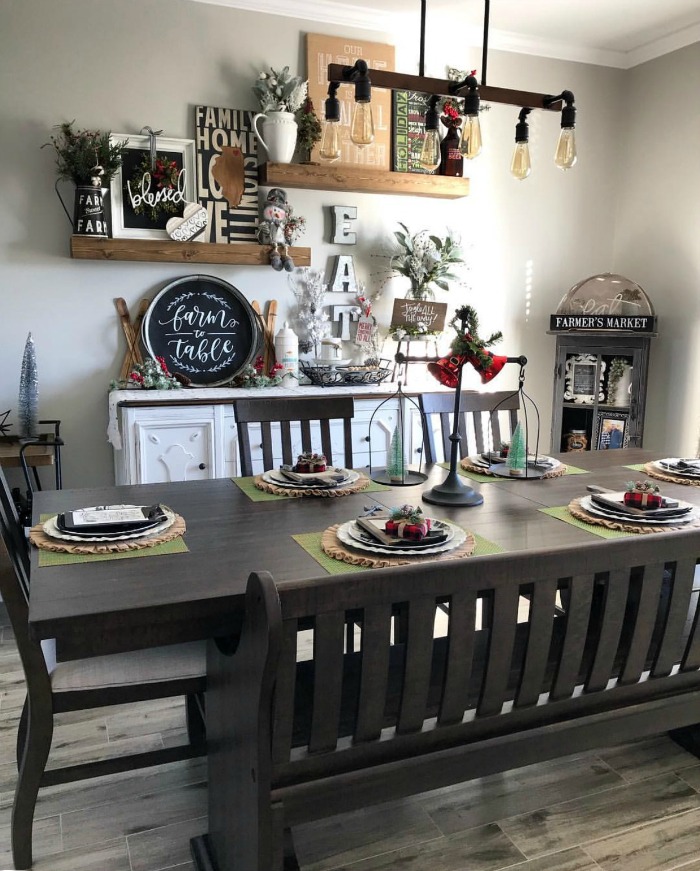 SOURCES: Dining Room Table Set: Bob's Discount Furniture // Light Fixture: Menards // Flooring: Porcelain Tile from Floor and Decor // Shelves: Lottie Love Boutique on Etsy // Family Illinois Sign: Barn Owl Primitives // Farm to Table Sign & Scale: Urban Farmgirl // Farmers Market Dome Tray & EAT letters: Hobby Lobby // Corner Shelf: Flea Market Find several years ago // Vintage Double Sided Clock: Hobby Lobby // Bar Cart: Kohls // Small Heart: Olivewood Designs 
Sitting Room
Here's where my "traditional" tree lives 🙂 So many special and personal ornaments that have turned into keepsakes over the last ten+ years. And it looks so dang good next to the curio cabinet? Am I right?! Classic Christmas feels ya'll! And yes, I bought that copper star at Michael's like ten years ago before copper was cool.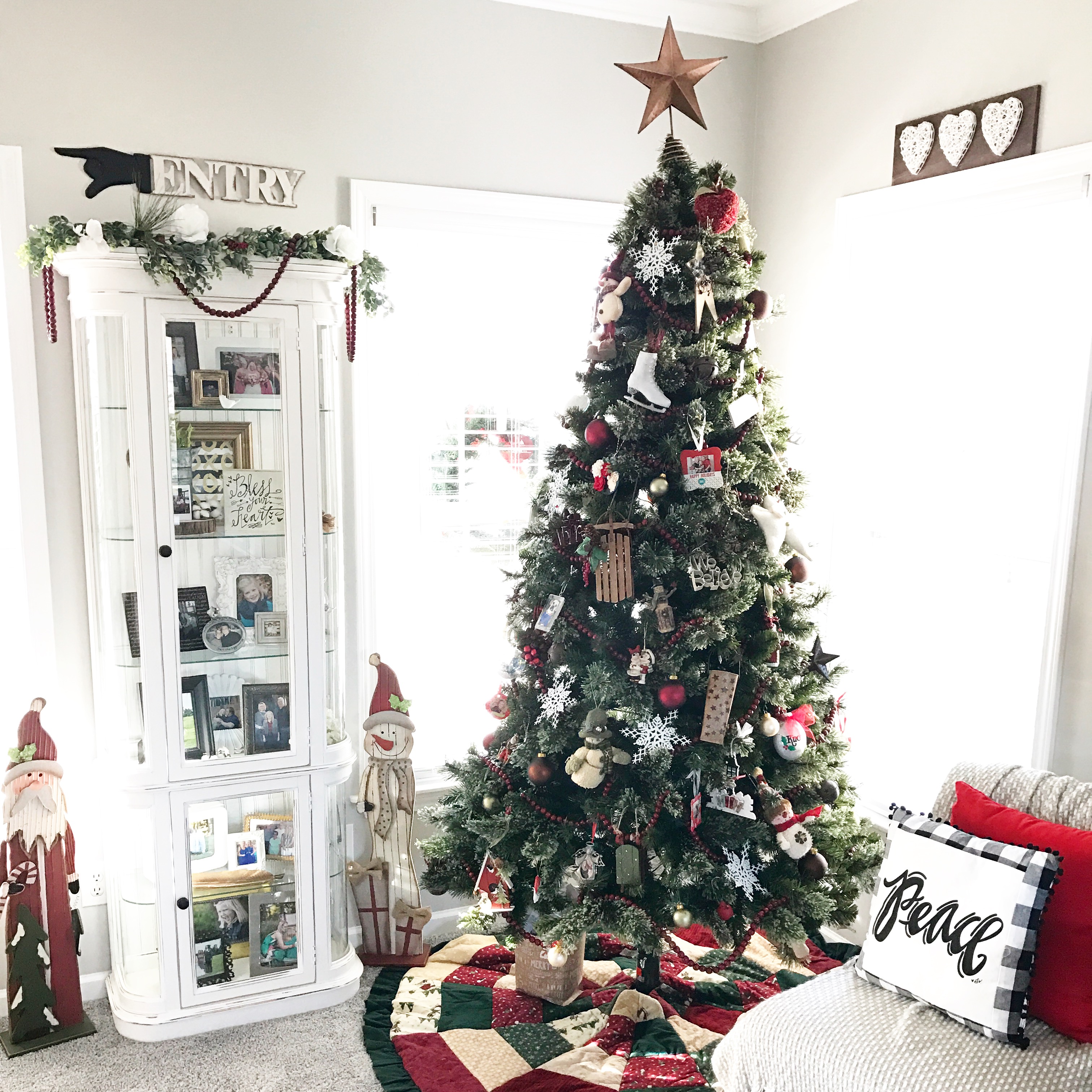 So this side of the sitting room was hard since I have some pops of yellow but decided to go with it and I think it kinda works! I found this plaid blanket at HomeGoods which had a little bit of yellow in it, and then it was game on!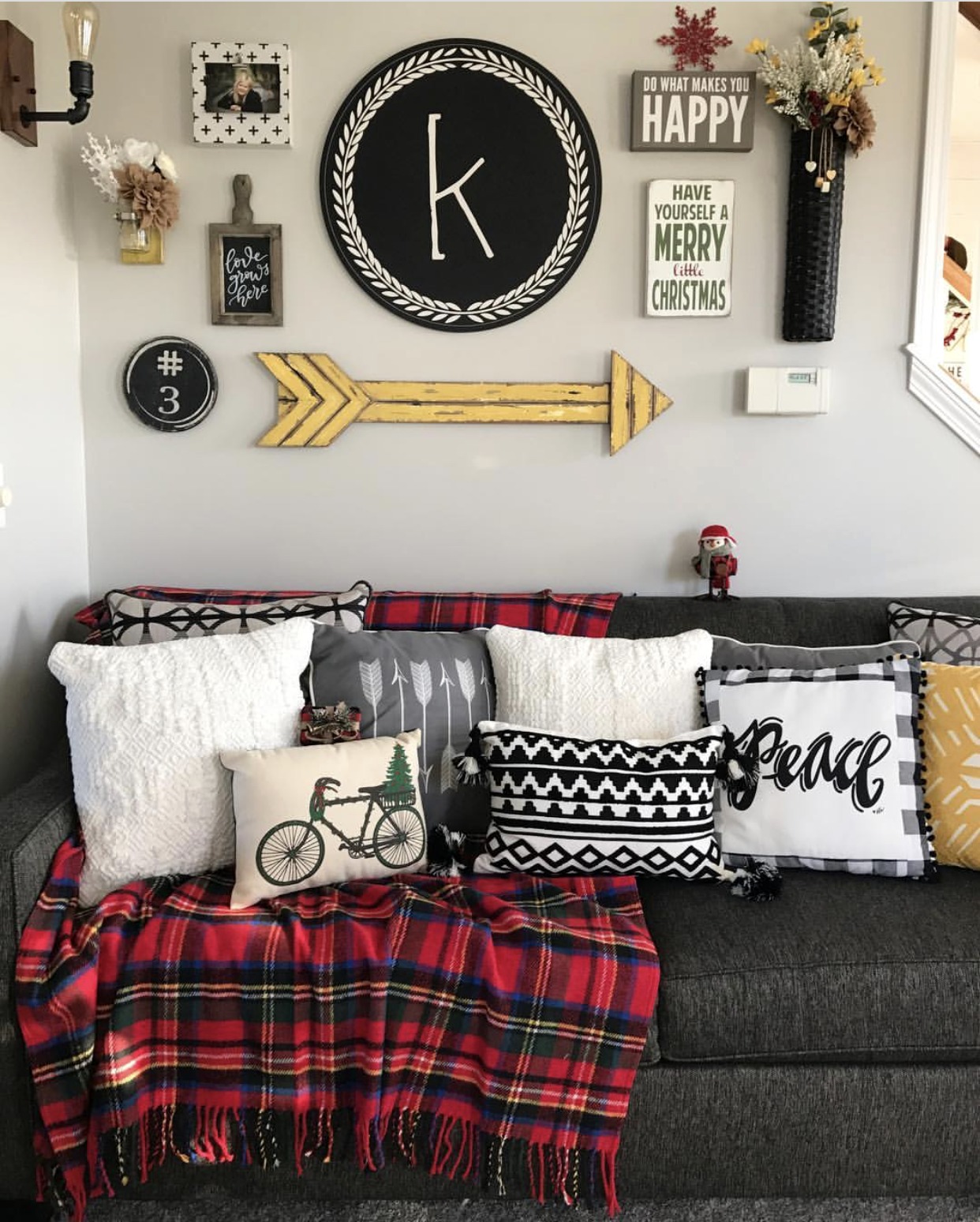 Front Porch
Now on to the front porch. So as you know, we used to have the smallest front porch EVER and now we have quiet a big space which can get overwhelming to decorate! I was so excited to receive this gorgeous REAL garland from Lynch Creek Farms that I draped around our front door. I added shatter proof ornaments, snowflakes and ribbon from Hobby Lobby to dress it up a bit. Our planters and faux wreaths are from Menards. I just used a command strip hook to hang the wreaths on our windows. The wreath seen on our front door is from last year from KKeithDesigns on Etsy. The believe script word is the amazing Heidi Swapp. You can pick out her handwriting anywhere, can't you?! I'm obsessed with good handwriting and hers is the bomb.com. The vintage sled and old ladder are craft show finds. I dressed up the ladder using festive garland and ribbon 🙂
Thanks so much for checkout out my holiday home tour! Soooo, I'm dying to know. Which room is your favorite? Happy Holidays!! xoxo, Michelle