Today I'm sharing how to organize your pantry – farmhouse style! I have been dreaming of one of those organized pantries that make me sing hallelujah when I open the doors. If you
follow me on insta
, you know I have a thing for organization and strive to be clutter-free. I wasn't
always
like this though so don't eye roll at me just yet. 😉 Trust me, when our daughter was younger I, too was just trying to survive and had crap EVERYWHERE. Fast forward, almost nine years and I'm ready to organize all the things!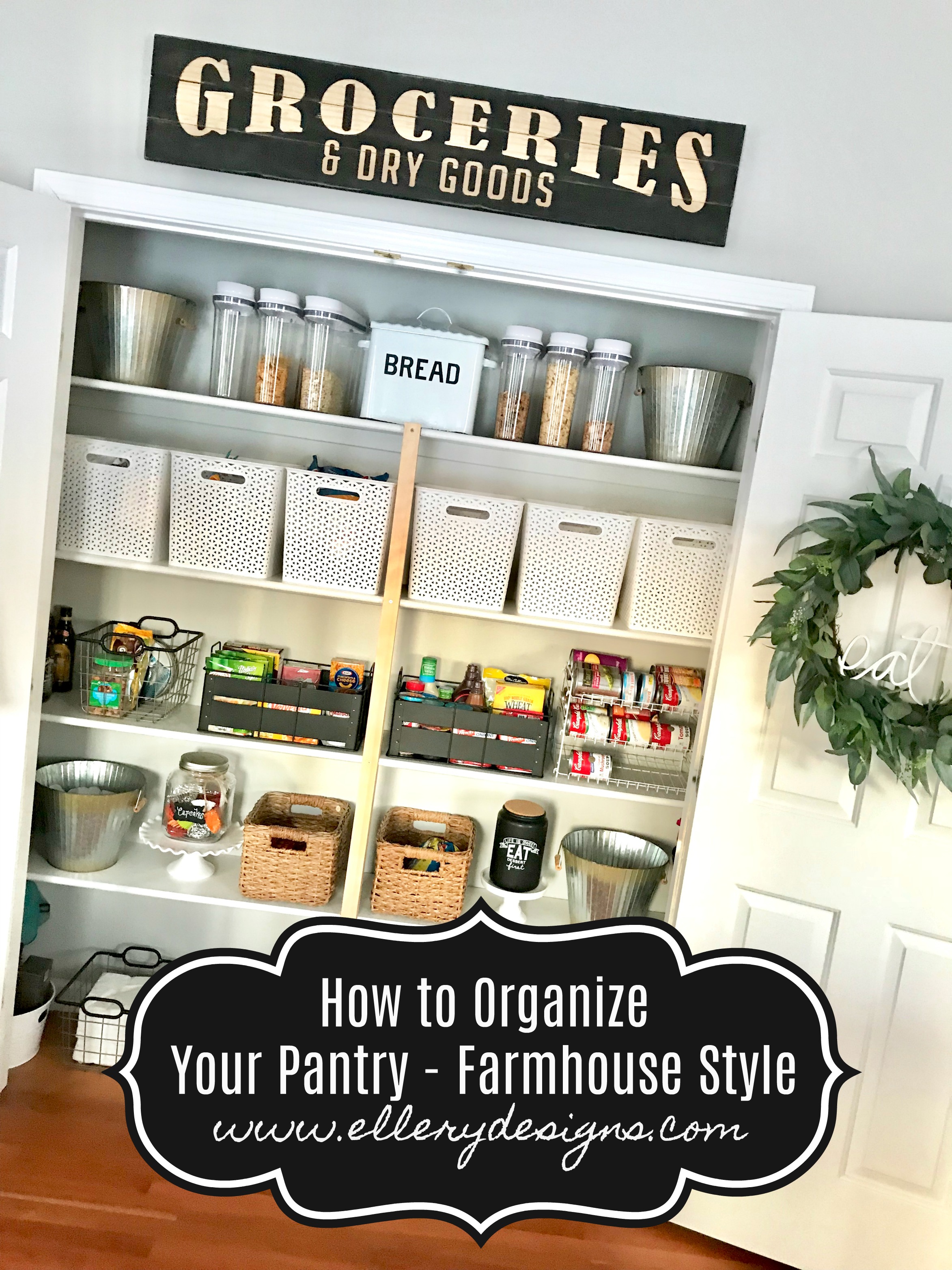 Here's what it looked like BEFORE….take a good look. It's actually not all that bad since we just moved in about six months ago, you should have seen the disaster zone our pantry was in our old house. YIKES.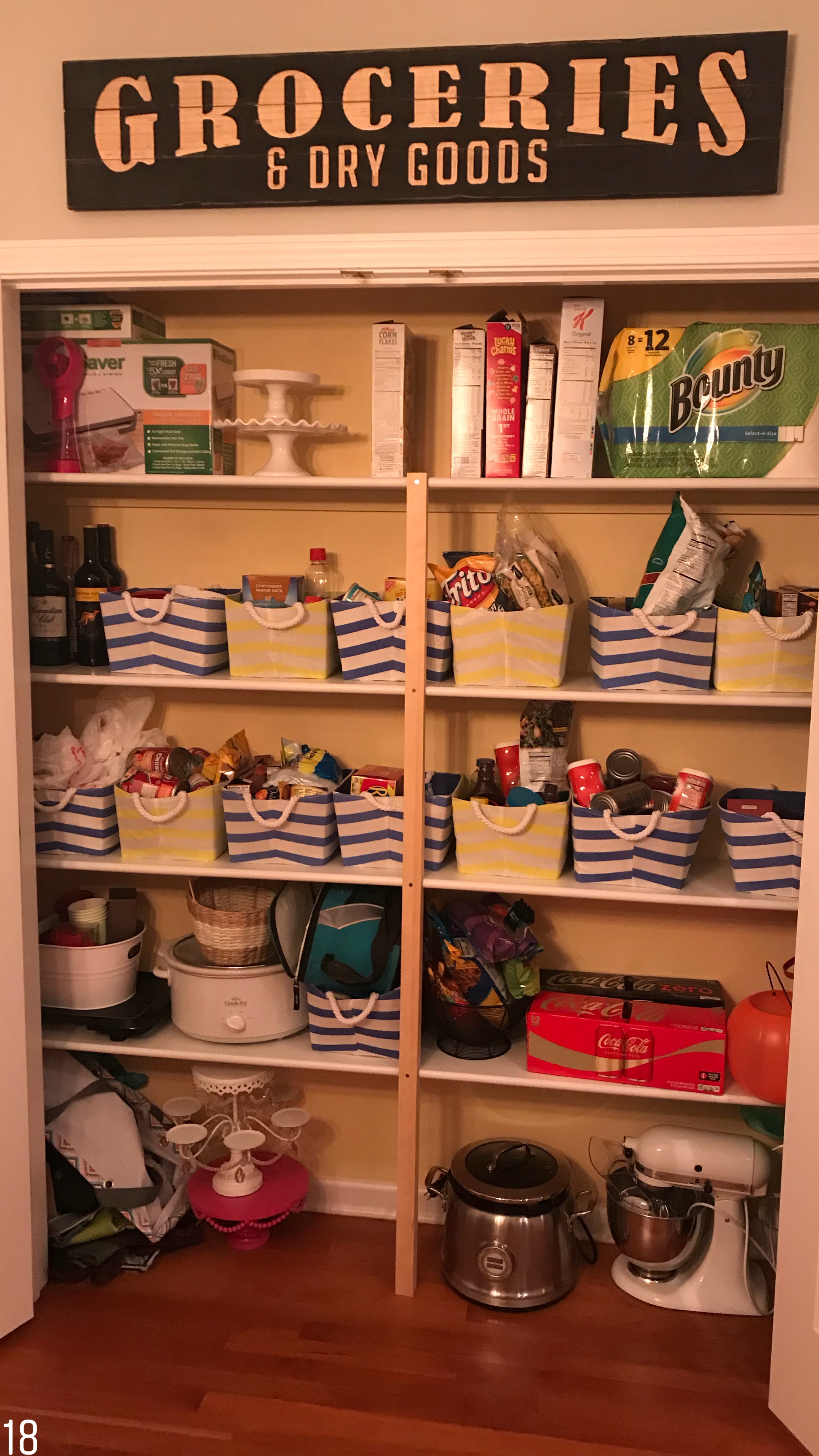 Now this IS NOT my normal "on a budget" post. I did splurge a little on some of the items and let me tell you why. I bought the cheapo Target One-Spot fabric bins in the past when I did a "pantry makeover" in our former home. They just don't hold enough and do not hold up. I truly wanted to create something that when I opened my pantry doors I didn't feel anxiety, and instead I felt a sense of calmness and helloooooo pretty farmhouse baskets. I mean, come on, cutest ever right?!
I also did my research when it came to getting the "best" containers for the cereal. I found some really reasonably priced ones at several stores for under $5 but read several reviews that said they were not airtight and left their food stale after a day. DID NOT WANT THAT. So, I read review after review and went with
these containers I found on Amazon
. Yep, not cheap for a set of three but they are amazing quality and I'll use them FOREVER. Plus, I had an Amazon gift card that was burning a hole in my wallet so it got put to good use!
Now before I get into the details of everything I do want to preface that I did want a pretty pantry but not one that was over the top and one that I couldn't keep up with. So that meant no pretty glass jars holding all the things. I just know personally, for me, it wouldn't stay maintained and it wasn't the look I was going for. Now don't get me wrong – those pretty pantry's you see on Pinterest are STUNNING but it wasn't the style or upkeep I wanted.
ORGANIZE YOUR PANTRY – TIPS + TRICKS
Remove All Items
First thing when you decide to organize your pantry – take EVERYTHING OUT. I had to do this since we still had that yellow color on the walls from when we first moved in. We had our whole house painted, top to bottom but did not have our painter do the closets, etc. so that left out the pantry. So this was painted Repose Gray by Sherwin Williams to match the rest of the house. Don't ask me why I didn't just have the painter do the pantry in the first place? But now it's pretty again 🙂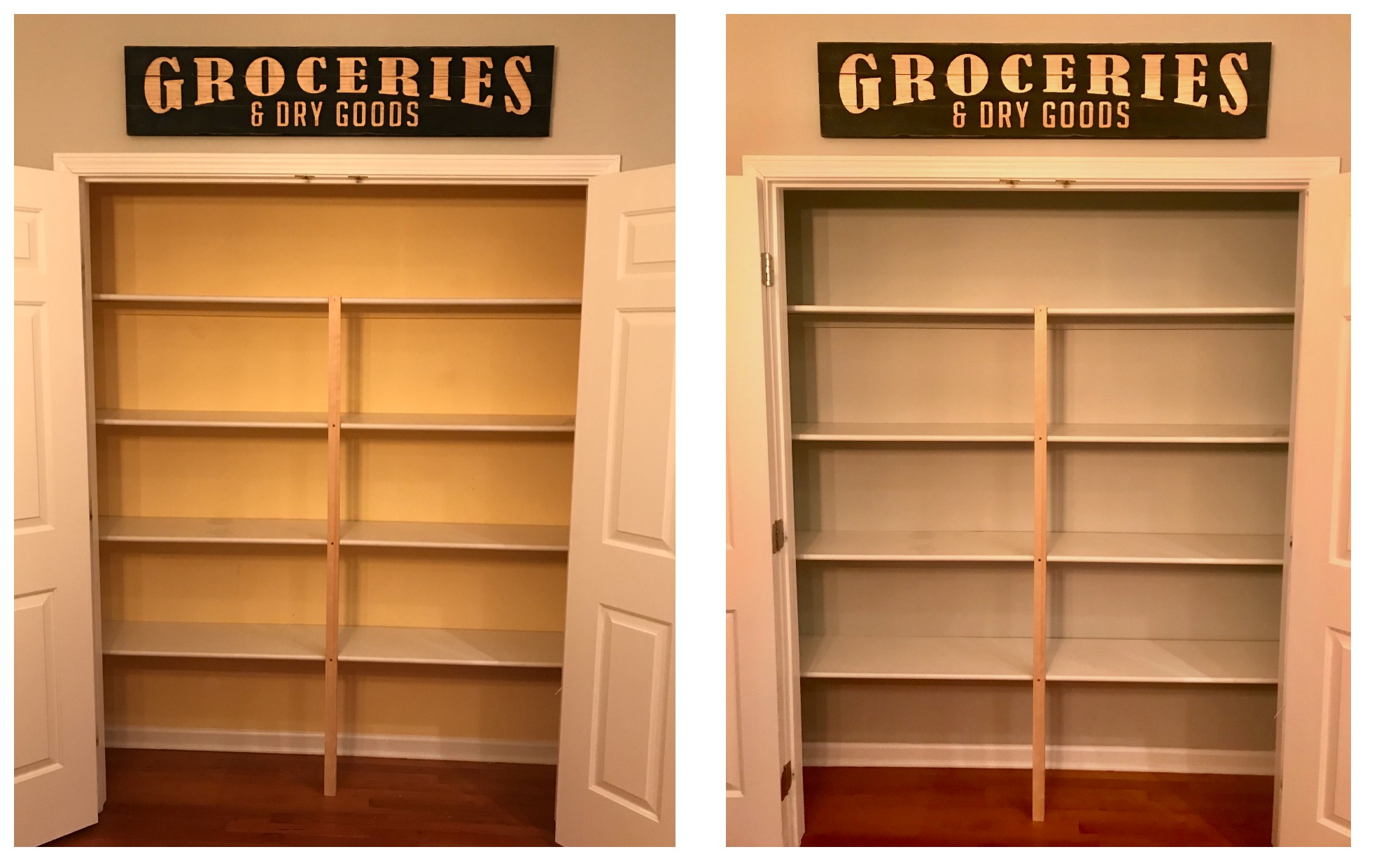 I also take all of my packaged items out of their main boxes. So fruit snacks, applesauce, snack sized items and so on all get removed and stored inside the baskets. It allows so much more room to store things instead of having large boxes wasting space in the pantry.
Choose the Right Containers
Next, figure out what size baskets will fit on your shelves. Our shelves are 11 inches deep so I made sure my containers were just under this size. I also wanted to use different textures and styles so I went with plastic, metal and wicker and made sure to do different sizing so it was visually appealing. Practical and pretty, my friends. Say it with me, practical yet pretty. 🙂 Ha. Anywho, since my theme was "farmhouse vibes" I went with black, white and some tan accents that are seen in the rope handles and wicker baskets along with some galvanized goodness b/c I LOVE anything galvanized. Using different size containers with different textures is key for a visually appealing space. I found all of my new storage baskets/bins at
Target
.
Labeling
I also decided not to put a label or little sign on my containers. This is totally up to you! I figured we are the only ones using our pantry so I don't need to label it, right? Ha. Trust me, we all know where the chips are located. Wink, wink.
Sidenote: I think this makeover makes my daughter the happiest. I mean if it takes getting new containers to make pouring cereal more fun, then I'm game! She opened it up yesterday morning and gasped, "This is soooo pretty, mom!" Haha, she knows how to make me smile. Now let's keep it that way, OK babes! 😉 I know, I know. Stop talking already and lets get to the photos…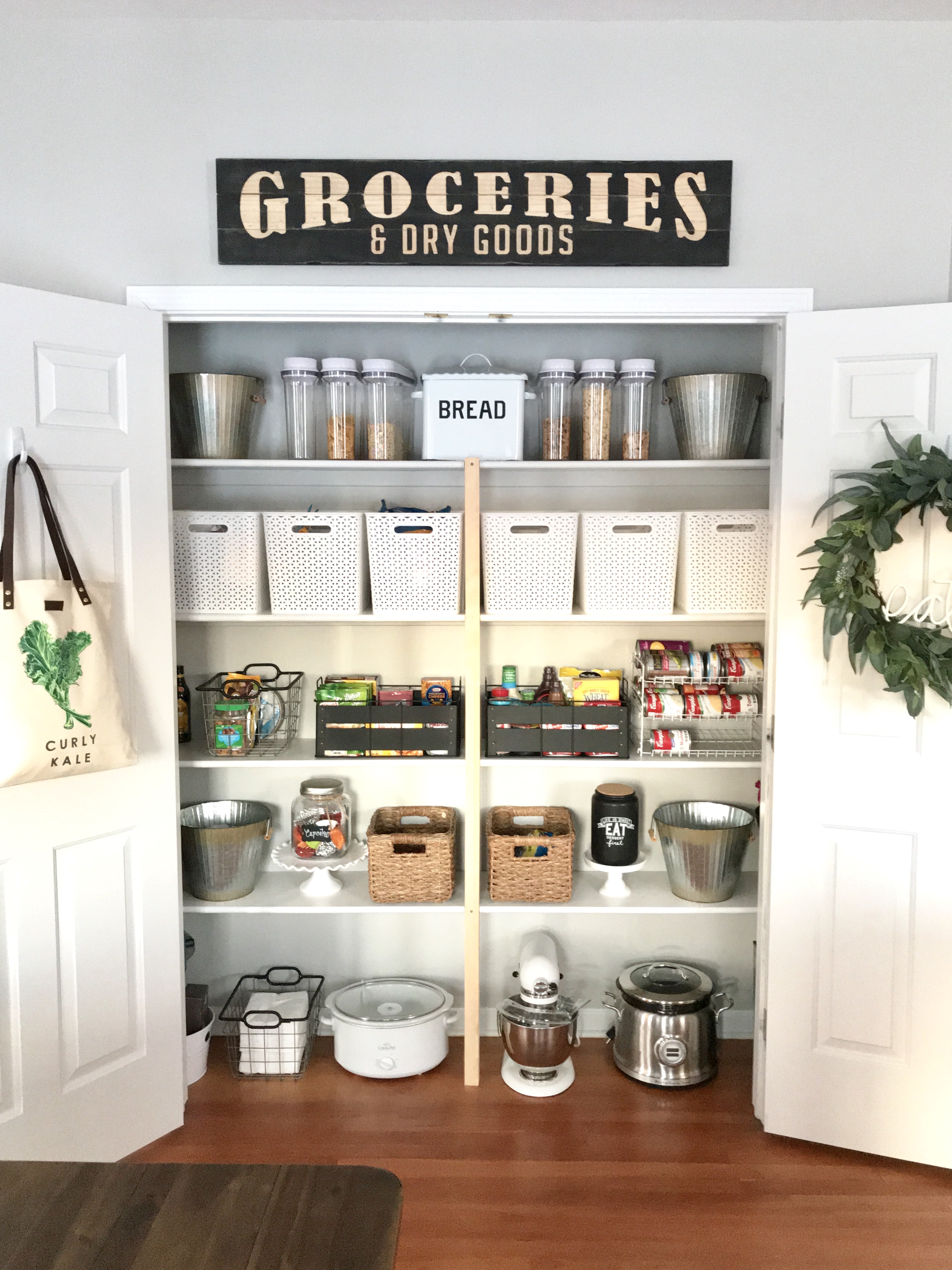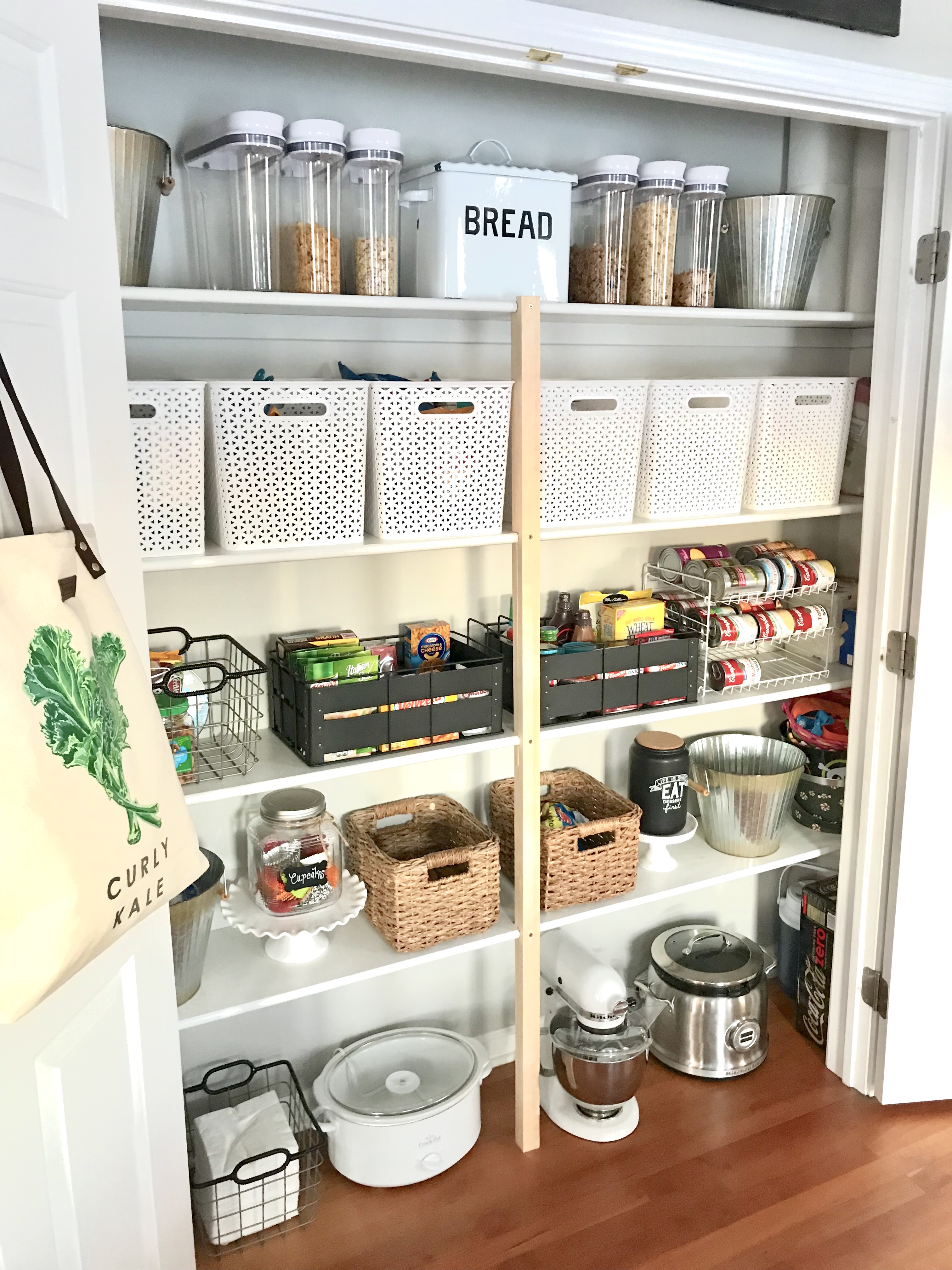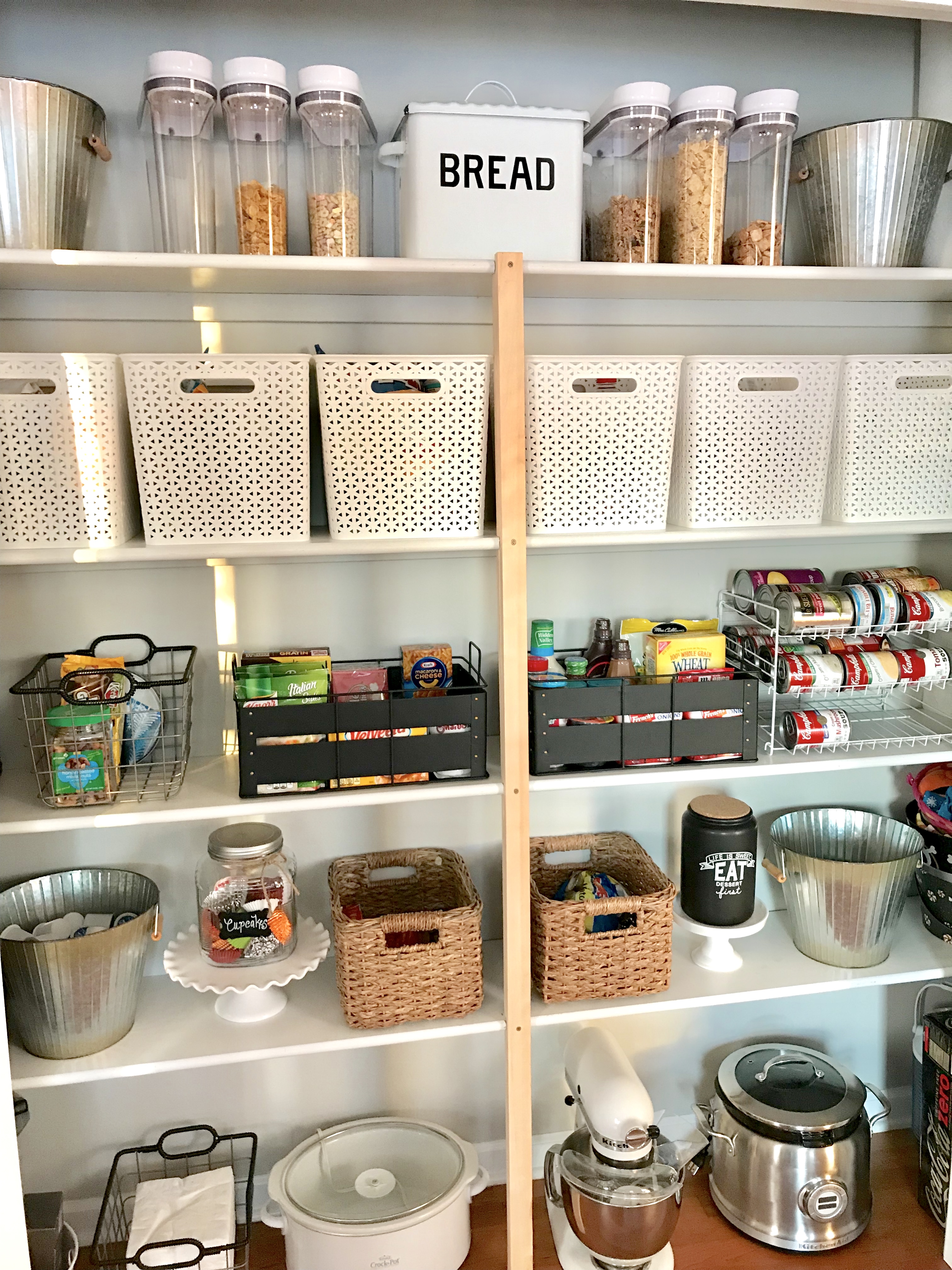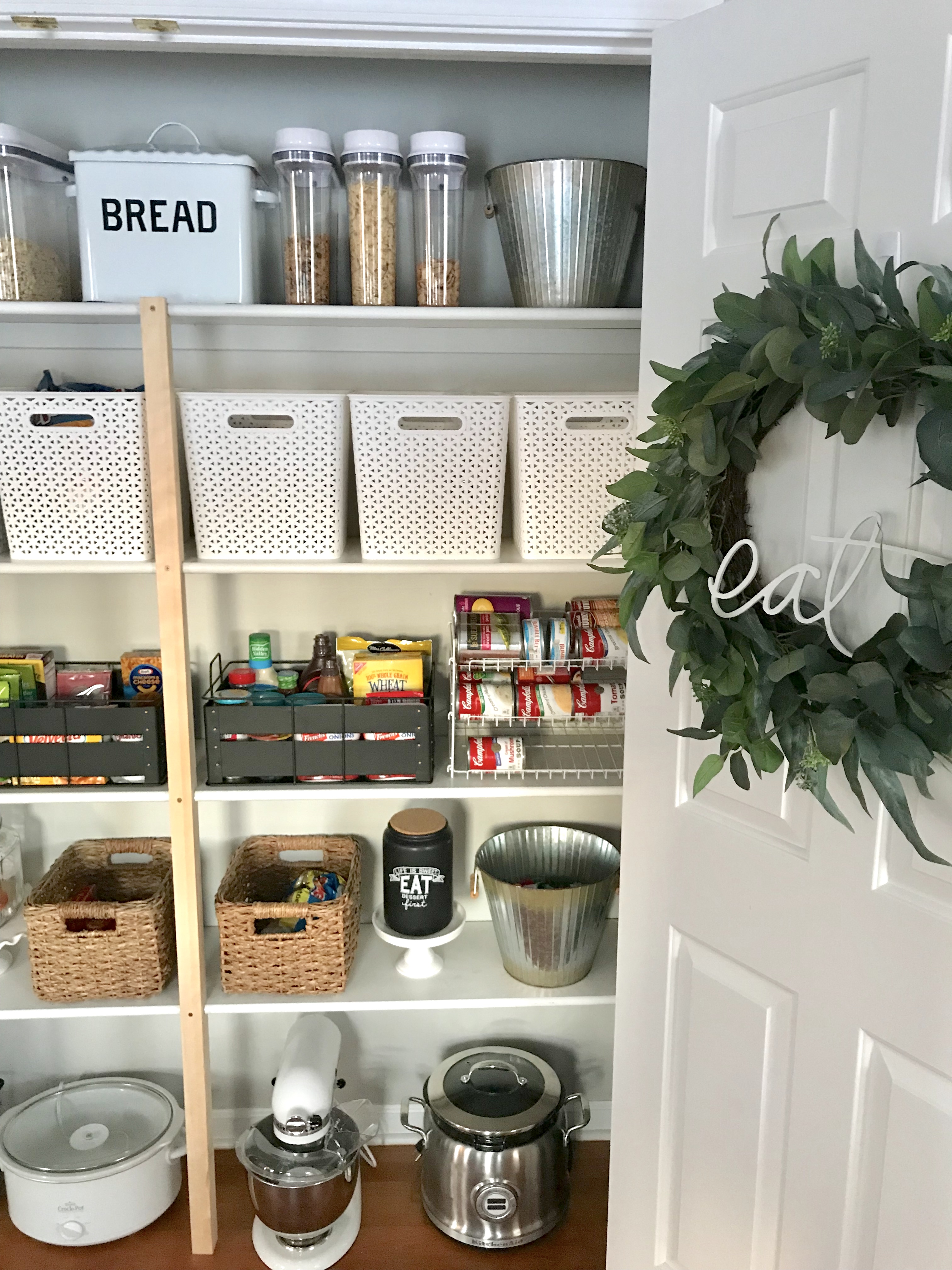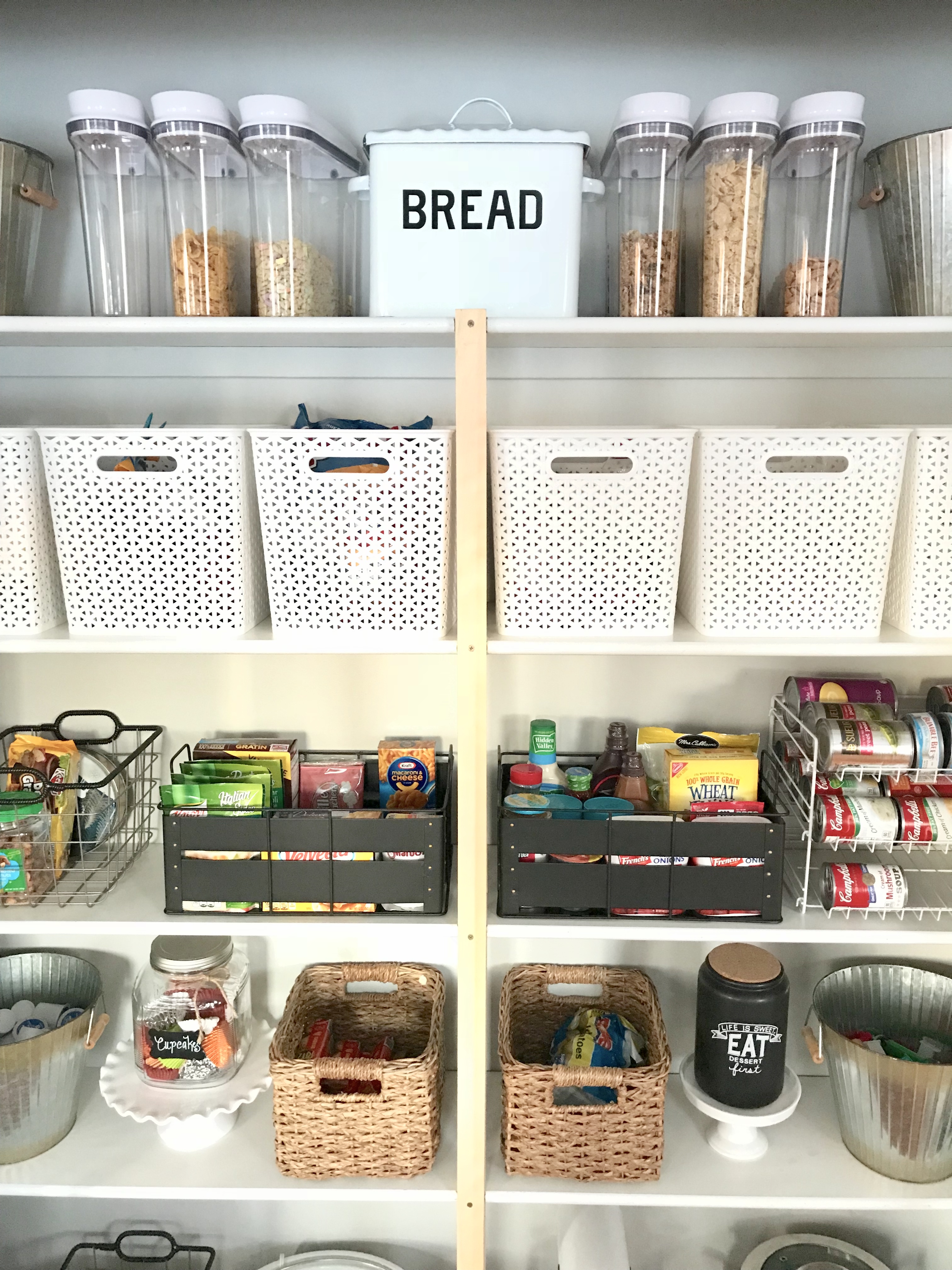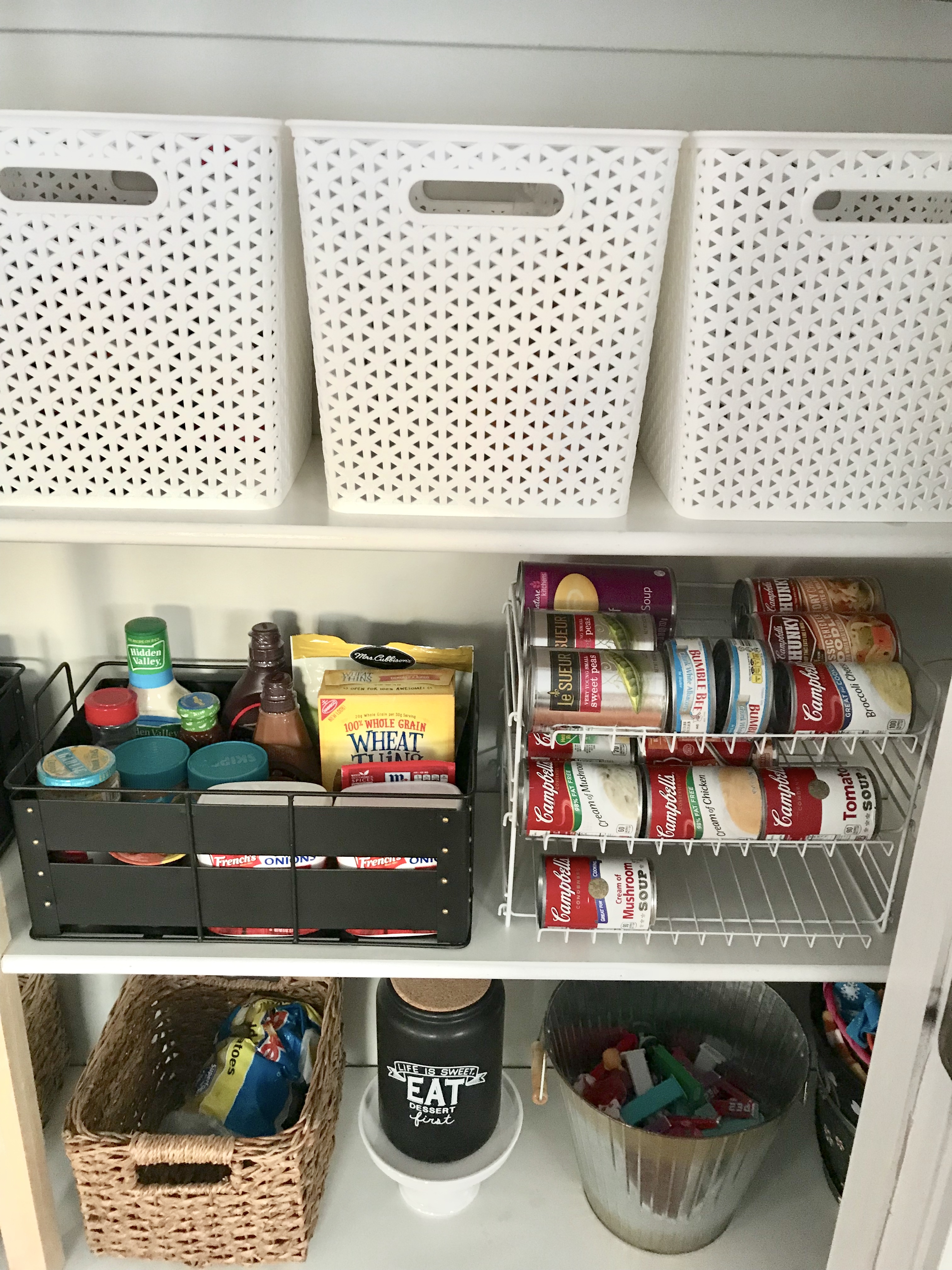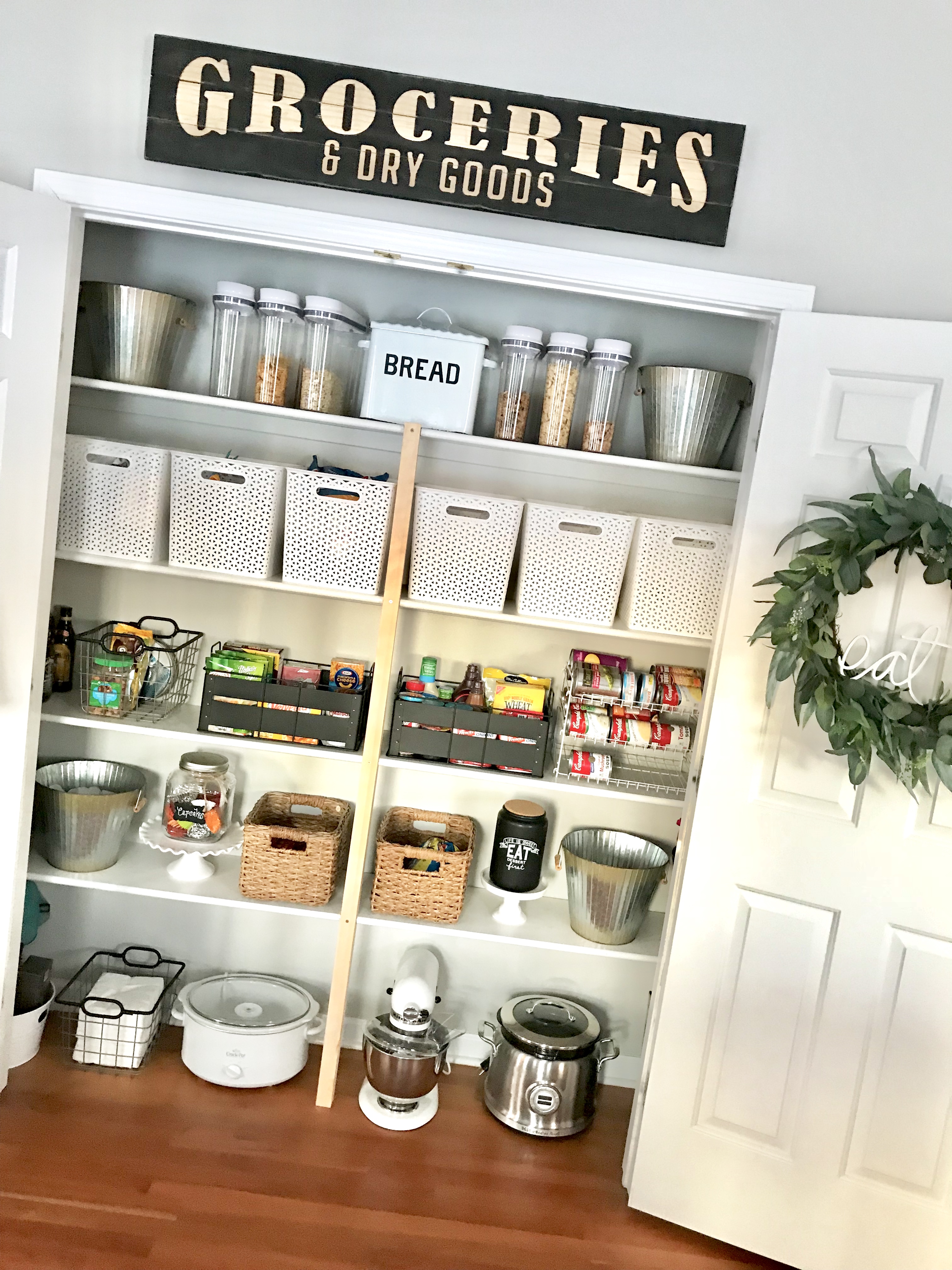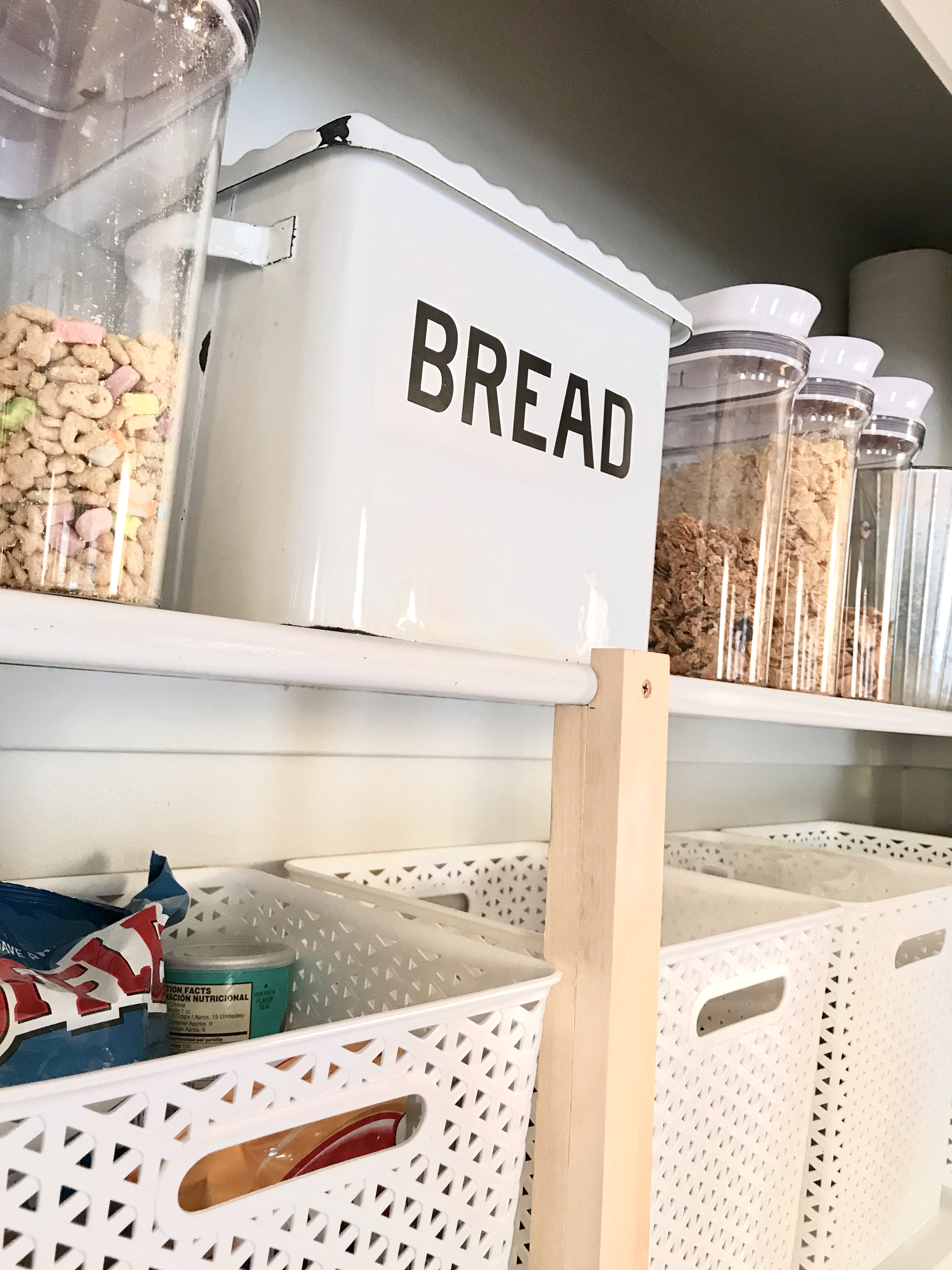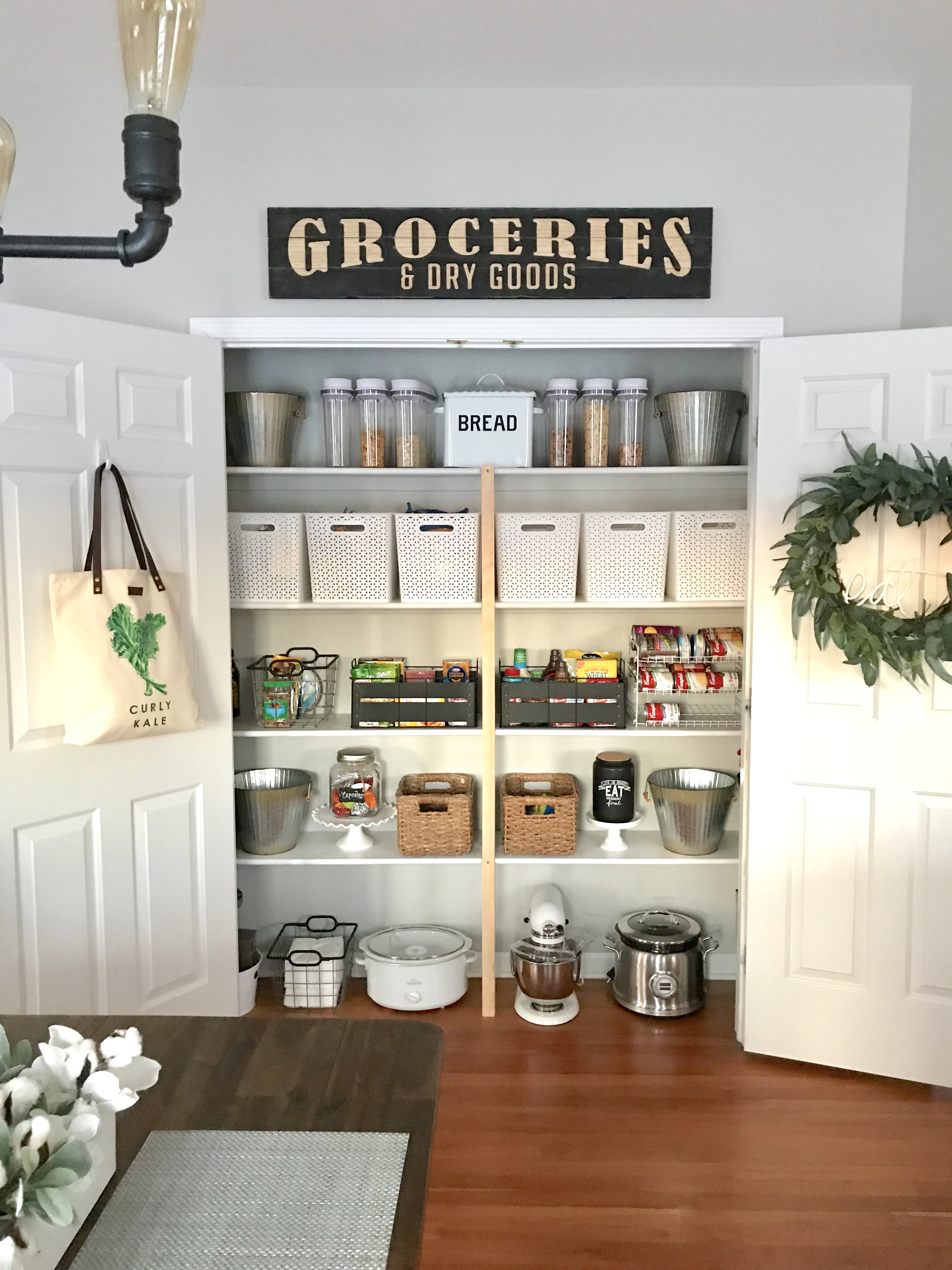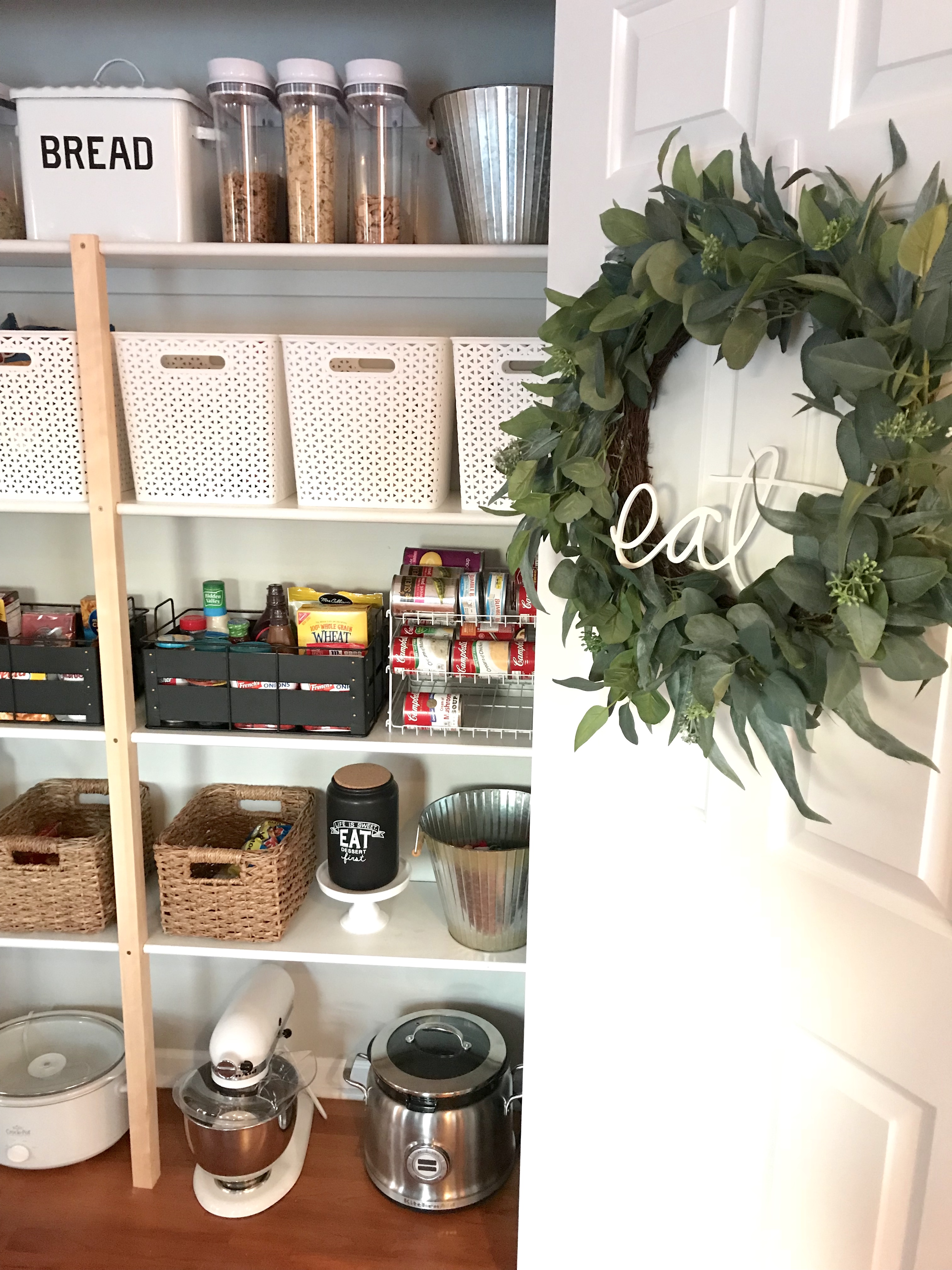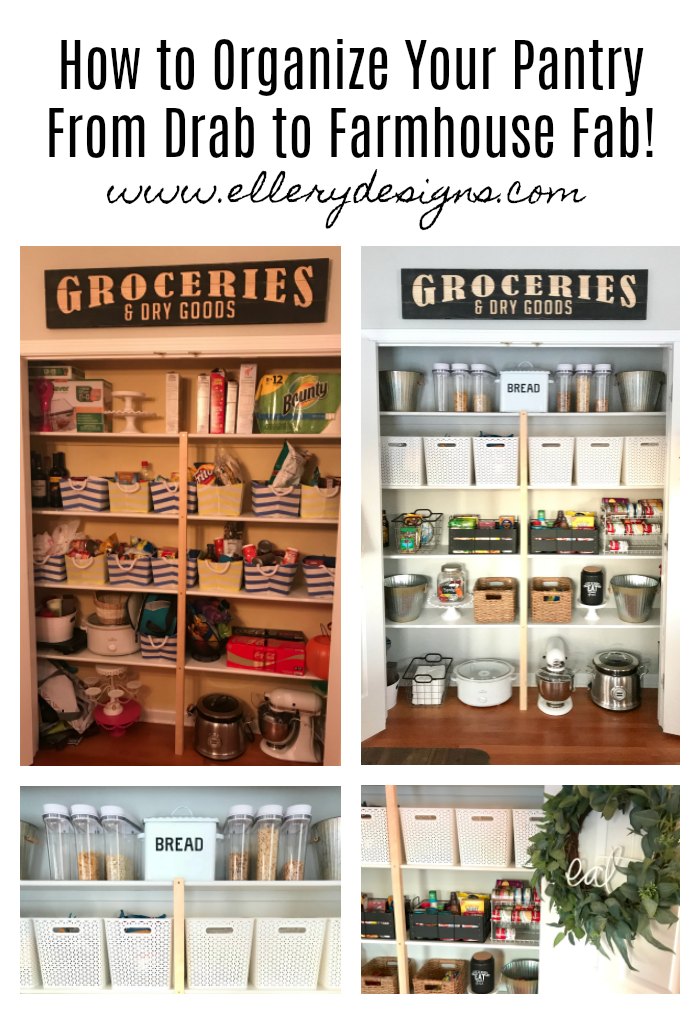 I used command hooks to hang the fun tote and wreath on the inside of the pantry doors. While this is a bit impractical, it does look pretty so I don't really mind when our pantry doors are left open anymore. Because let's be honest, it happens A LOT. I can't be the only one who has this problem in their household? Right?! I may sometimes leave them purposely open now b/c I just LOVE the inside of our pantry! Ha, it's the little things people! 🙂
A little secret….
Also, I will admit I do need to get groceries so I do have a couple empty or half-full bins right now. This may not look like a lot of storage, but it truly is way more than enough for what I need. I also love the way my pantry is laid out because I have a lot of storage on the sides where you can't see in most of the photos – so that is where I store all of my paper towels, pop, alcohol, and so on! It works out well that I can "hide all the things" and still have a pretty pantry.
Shop the items I used:
Metal Buckets I found in the Target One Spot for $5. View similar metal baskets
here
.
PRO-MART DAZZ 3 Tier Can Rack Organizer, White

Creative Co-op Enameled Metal Bread Box, White
I hope I left you inspired to go organize your pantry! Even if it just needs a good cleaning – sometimes that makes all the difference! Affiliate links are used in this post, but all thoughts and opinions expressed are always my own. Visit my disclosure page for more. Now I have the itch to organize every single closet, etc….eek!