Hi friends! First project on the blog for our new home reveal is our stenciled tile fireplace makeover! It's been awhile, right?! Sorry the blog has been so quiet, but if you follow along with me on Instagram (if not, what are you waiting for? @ellerydesigns) then you would know that we recently moved into a "new" home! Well, new to us! We've been busy with so many renovations and projects! I can't wait to share more with you here on the blog! I promise I won't be so quiet anymore. 🙂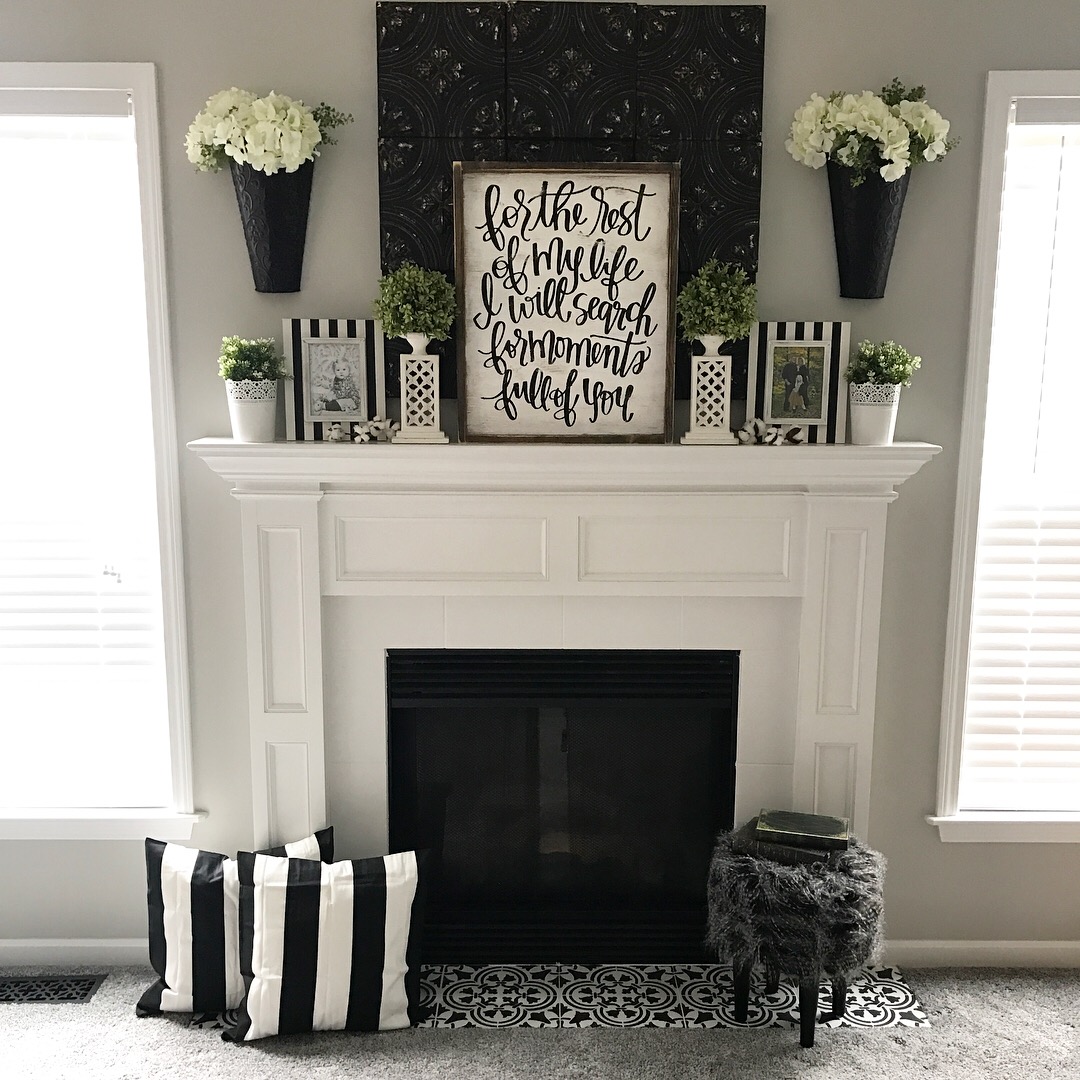 DETAILS

First up, on my DIY project list was a fireplace makeover and making this space a little more visually appealing. I'm so excited to have a REAL fireplace now! But the blah yellow-ish tiles were kind of an eye sore. I decided to paint the tiles white using Rust Oleum Chalk Paint in White Linen that I bought at Menards. I simply taped everything off and just painted the tiles using three coats of the white chalk paint, and I did not prime. I always paint using a brush and backroll using a small roller to eliminate brush strokes. I used the Charcoal color for the stencil part. It dries super fast so I only had to wait 5-10 minutes before moving the stencil. I bought a small/fat round brush and lightly dabbed on the stencil. I always blotted the brush on a paper towel first. I recommend not using a regular brush – you just want to lightly dab straight down so it doesn't leak/run outside the stencil so I found the fat rounded brush, like these, worked great. Once you're completely done, I sealed using the clear matte top coat.

I've seen a lot of stenciled tile DIY's on Pinterest and Insta lately so wanted to give it a try! I will say, I hate painting and this wasn't very easy since our tiles had odd cutouts so it was a little tricky using the stencil; so yes, that's why I just stuck to stenciling the bottom tiles, BUT I love how it turned out! Well more like, it would have been too hard to do the rest and if I want to make a change in a few years, it will be easier to do so with just bottom ones stenciled. The stencil is from Cutting Edge Stencils. Here is the pattern I chose.
There are so many cute options for your fireplace makeover!

STEP BY STEP: STENCILING YOUR TILE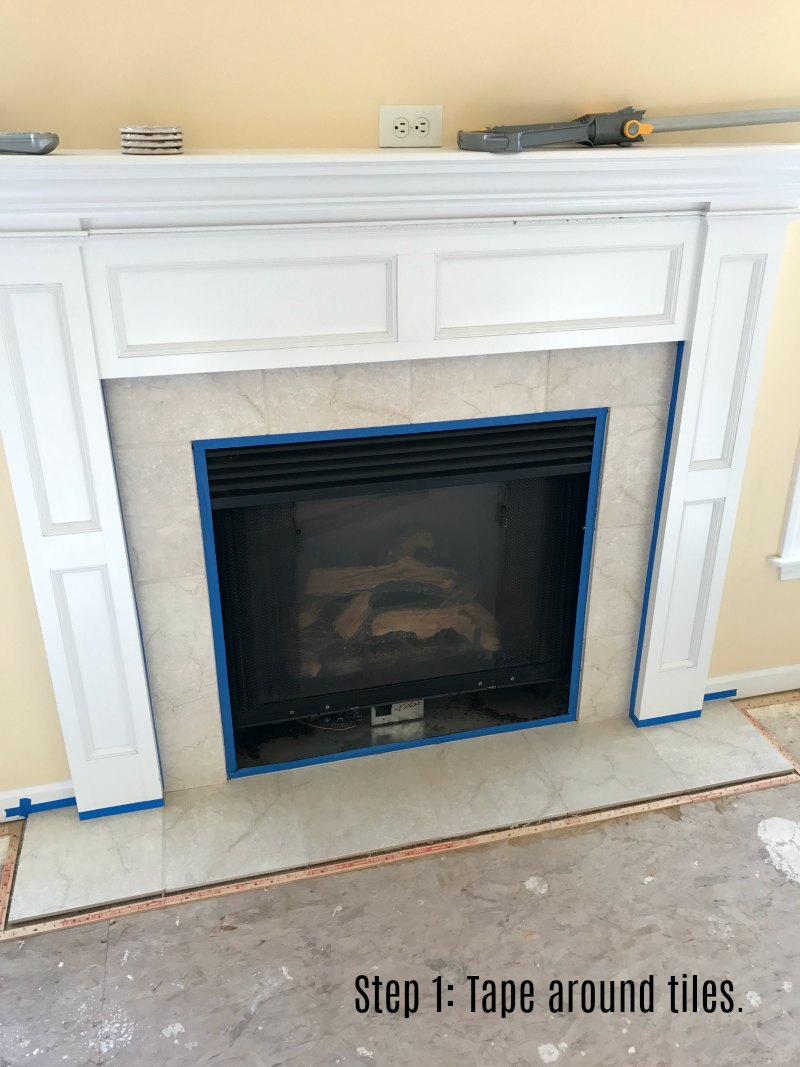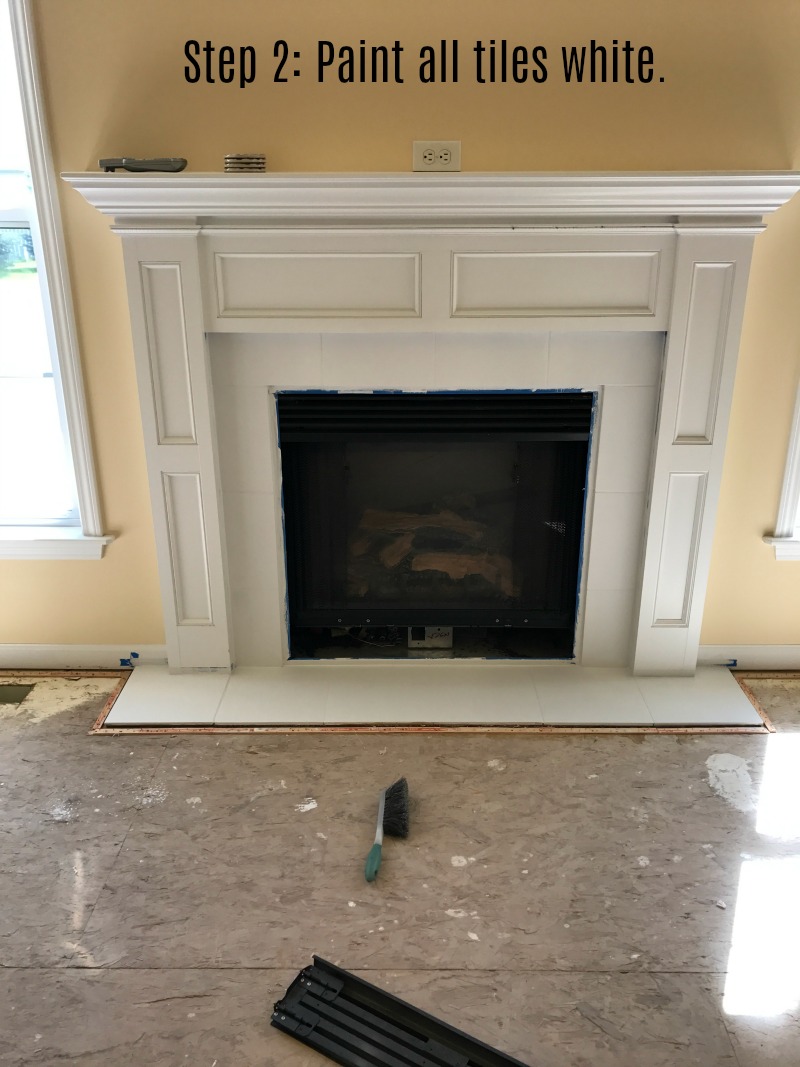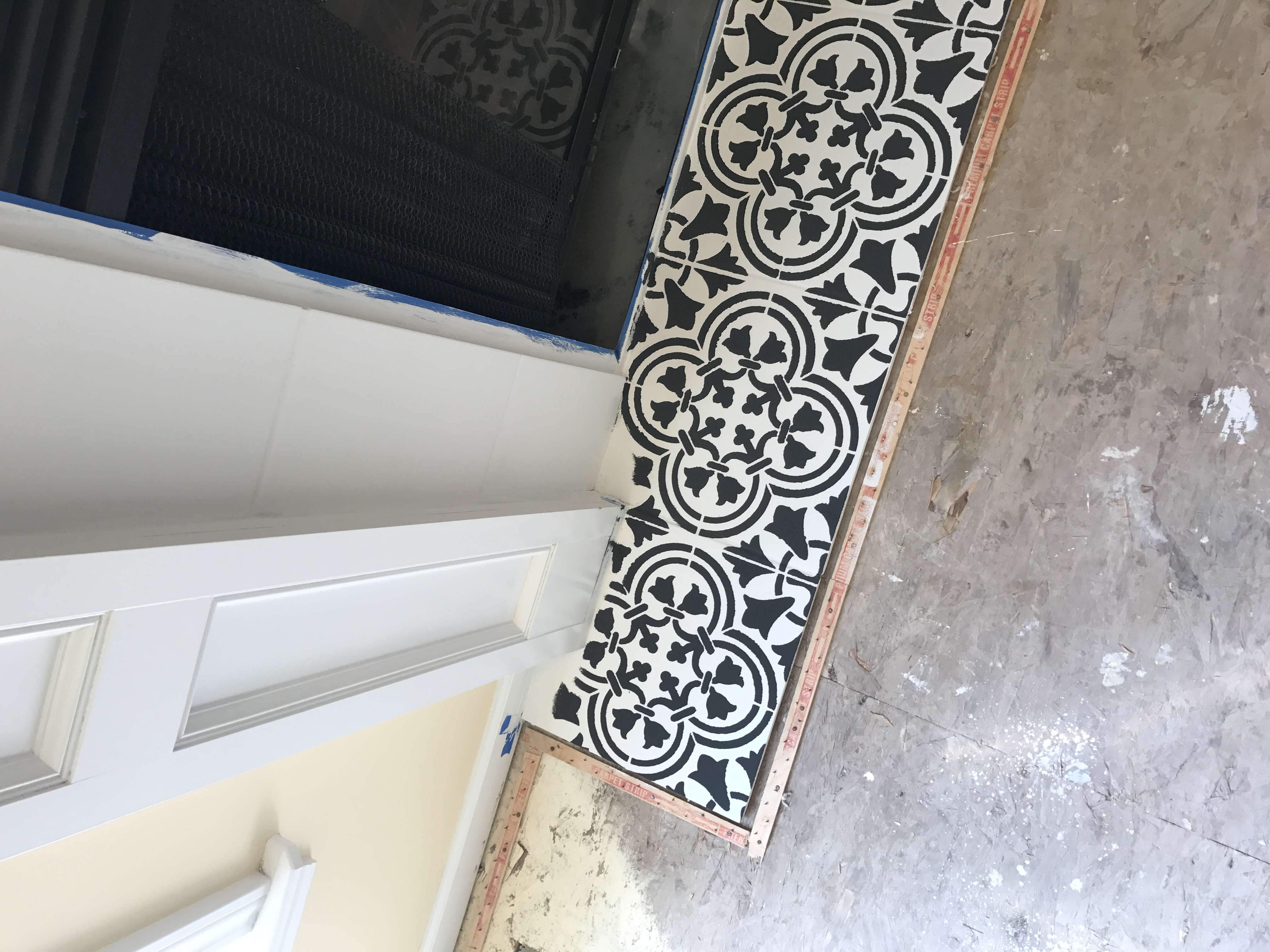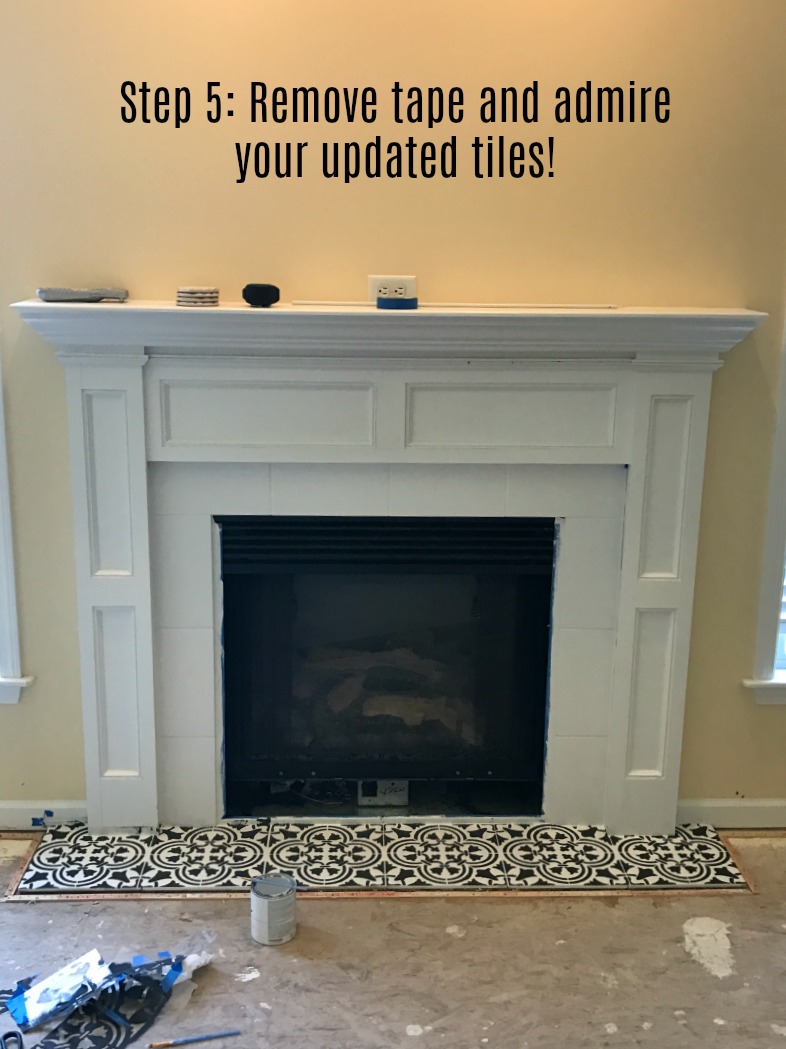 Change is a good thing….
Loving the modern farmhouse vibes this update brings to our room! A quick, subtle change but makes all the difference, right?! If you don't know, black and white is my favorite with touches of wood elements so this fits right in with my style and I've received SO many compliments already! As you can see we added new carpeting and fresh paint!

Once I was done
stenciling the tile
and the walls were painted, I was able to decorate. (Paint is Repose Gray by Sherwin Williams.) I was struggling with styling our new fireplace because our old faux fireplace had a big chunky mantel and this one is much smaller.  After I roamed the aisles at Hobby Lobby, I wasn't having as hard of a time. Hobby Lobby for the win! I found everything on the mantel there, except the two small arrangements on the edge of the mantel are from IKEA. The black and white striped pillows are also from IKEA. Black and white stripes are my absolute FAVORITE so I love the modern farmhouse-y look it gives to our updated space!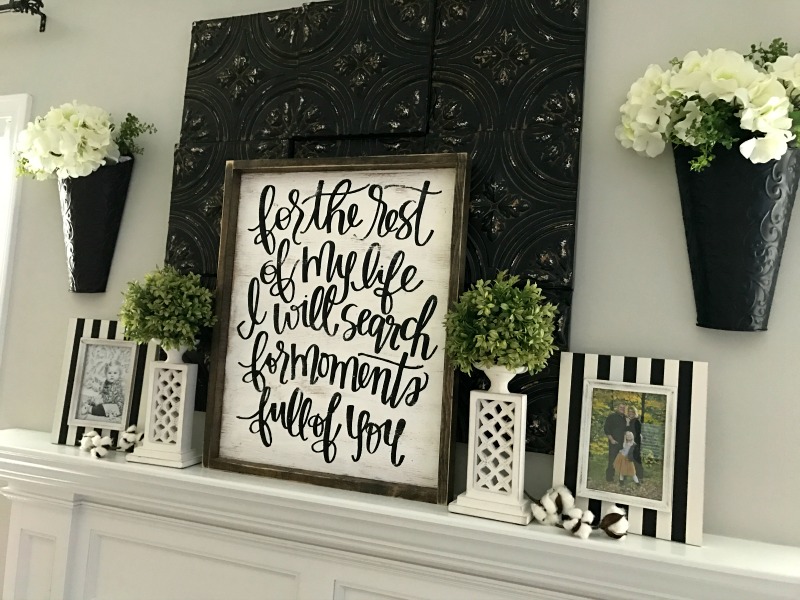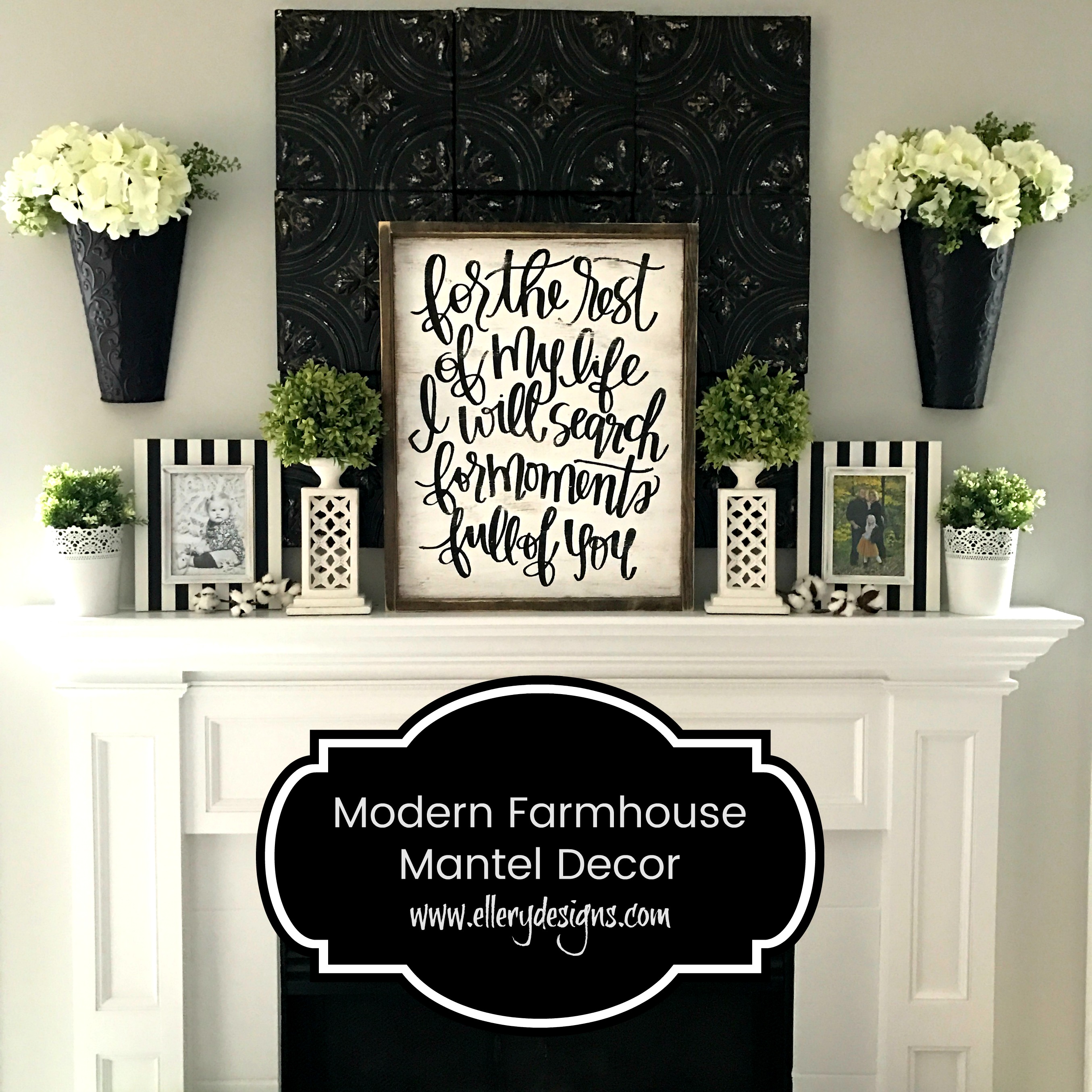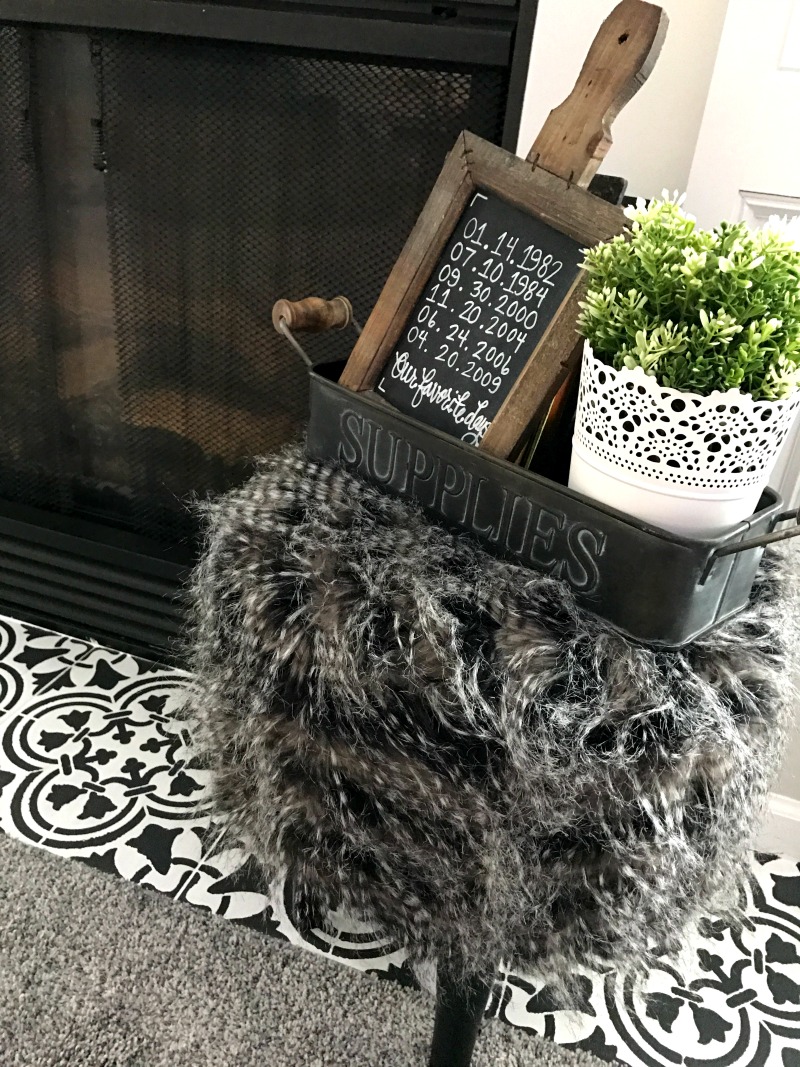 Let me know what you think! Have you stenciled tile before?! Would love to hear your experience in the comments. Don't forget to order your stencils here. They are always having such great discounts, too! One project blogged. Many to go, so stay tuned!!
XO, Michelle