It's been three months since we've moved in and we are LOVING our new home. It's just perfect for us and we couldn't be happier! I'm excited to share with you our favorite room transformations with some before and after photos! (Thanks to my sister Rebecca Lynne Photography for snapping these after shots.)
I will definitely create blog posts for each room – but for now, I wanted to do one main post dedicated to just the before and after shots of each room. Rebecca photographed each after shot as an exact replica to the listing photos – so you really get a feel for how much each space has quickly changed! Bye bye yellow, hello beautiful gray! Repose Gray by Sherwin Williams to be exact. The best gray hands down – I couldn't love it more! There are no blue/purple undertones – it's just a very classic very light gray. In certain lighting, it almost looks white at times.
BEFORE + AFTER #1
….the breakfast nook looking into the living room. New lighting and paint have made all the difference! Light fixture is from Menards. Our table and stools are from World Market. The two gray tufted chairs from Target. I had the farmhouse sign from our old home that I purchased at Urban Farmgirl, a local shop in Rockford, IL.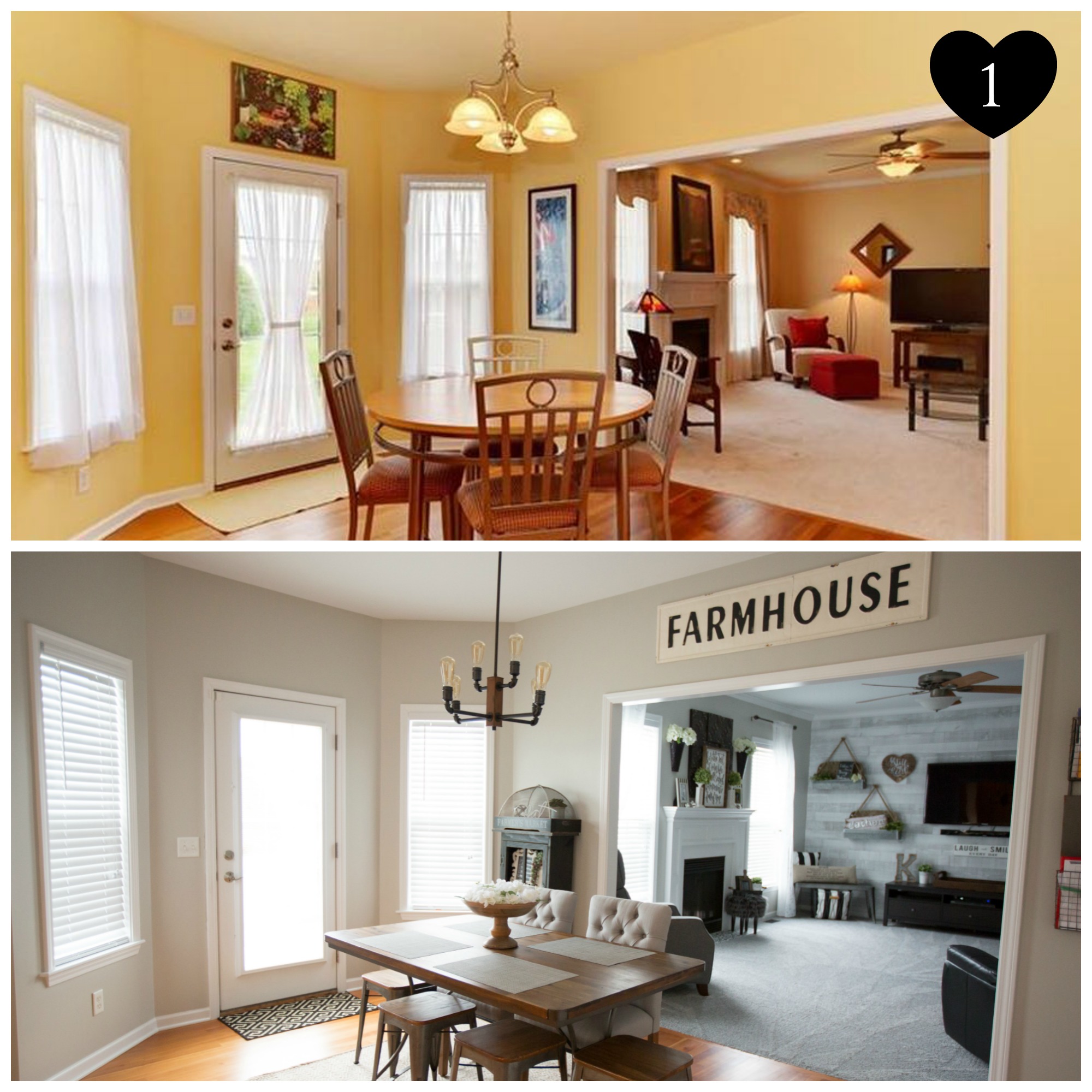 BEFORE + AFTER #2
…..the living room! We updated our fireplace with a little paint and stenciling – see detailed blog post here. We updated with a light gray carpet as we knew the white wasn't going to last long! The new wood plank wall is an amazing focal point! It's real wood pieces by Timberwall that you just peel and stick on – easy peasy! You can purchase these on lowes.com. Blog post coming soon with more details of this wall!
BEFORE + AFTER #3
….the dining room – and it MIGHT just be my favorite room! Lighting again is from Menards. New flooring from Floor and Decor – it's tile that looks like wood. My buffet is from Urban Farmgirl – one of my favorite pieces in our home. New dining room table set is from Bob's Discount Furniture. Wood shelves seen on left wall are from Lottie Love Boutique on etsy. Again, more in depth details coming to the blog soon!
BEFORE + AFTER #4
…another living room shot of our Timberwall wall! I feel like this wall alone is the biggest transformation. I mean look at that before shot – so much I could say but I will leave it alone 😉
BEFORE + AFTER 5
…..entryway. Loving our new wallpops peel and stick wallpaper. Check out more details of that here.
BEFORE + AFTER 6
….our sitting room! I just love our new light and bright space and this is one of my favorite gallery walls!
BEFORE + AFTER 7
….the kitchen! I haven't made any HUGE changes in here yet. The new paint certainly helps make our cabinets pop instead of blending in with that yellow. I spray painted all of the hardware handles a matte black and it is such a subtle yet fun change! Black and white is my fav so I'm kinda loving our kitchen right now. We plan to update the island and definitely do a backsplash so stay tuned!
BEFORE + AFTER 8
….our daughter's bedroom. What a difference right?! I'm loving all the pink! 🙂 This bedroom is not very large but I feel like it looks much bigger than before when it had too many furniture items crammed in one space.
BEFORE + AFTER 9
…..the Master Bedroom! I'm still working on this space (mainly the left side wall) but it has come a long way already! It's amazing what a change in decor style can have to a space. Again, I think I did a good job at making this room feel and look bigger than it was!
BEFORE + AFTER 10
….last but not least our main floor half-bath! I kept the little white cabinet the previous owner left and had fun decorating this space! Wall color is Tidewater by Sherwin Williams.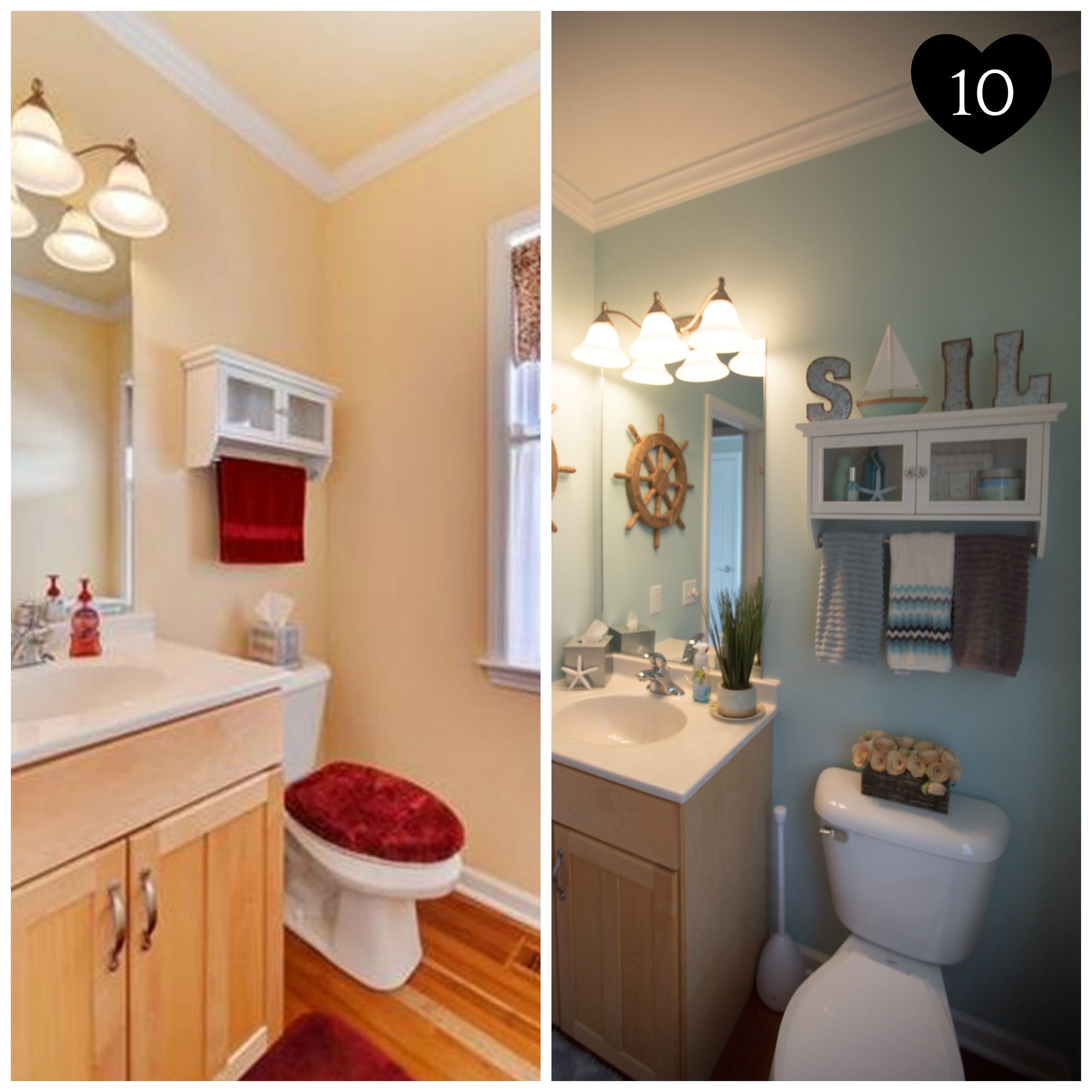 Hope you enjoyed our before and after home tour – well I didn't get to every room but these are 10 of my favorites! 🙂 Which is your favorite transformation? Would love to hear in the comments! It really feels like HOME to all of us now.