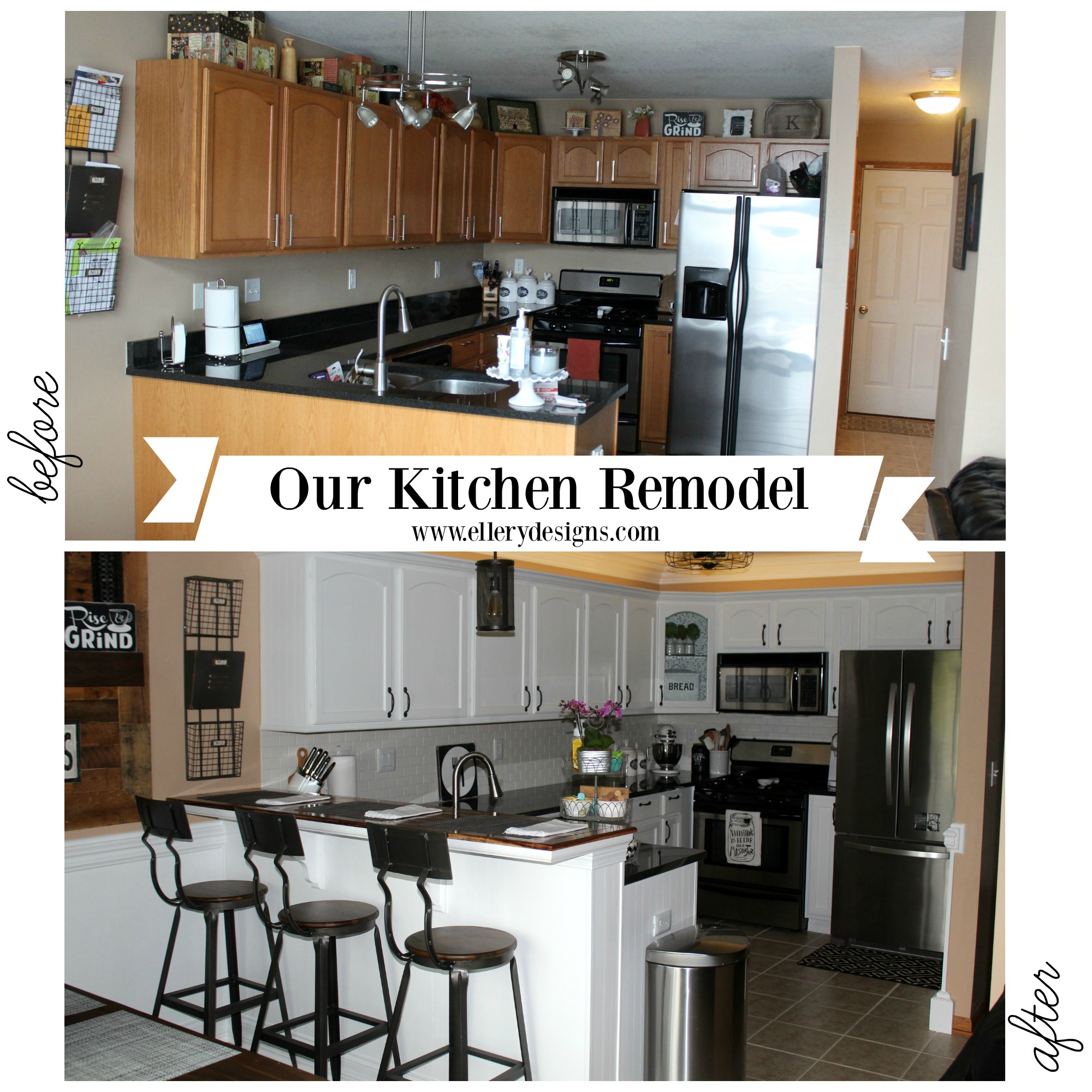 UPDATE: Our Kitchen has been featured on Shutterfly.com's 100 Creative Kitchens! Yay! View the inspiration here.
Alright, this is my favorite post EVER. Our Modern Industrial DIY Farmhouse Kitchen Makeover. I'm doing things a little different and doing the FULL REVEAL post now and will have all the other posts (like all the tips and tricks on how to paint your cabinets white – yay!) in days to come.
The before and after photos sort of speak for themselves! The best part of this remodel is my handy hubby and I did everything ourselves. Whew! I think we need a vacation. It was a lot of work but BEYOND worth it! We are in LOVE with our new kitchen. It seriously feels like a brand new home. I love the modern industrial farmhouse feel with a touch of rustic glam. I can't believe how much stuff I thought was acceptable to decorate with above the cabinets in our before pictures, yowsa! I am loving the fresh, clean feel it brings and the painted white cabinets really brighten up this room and feels much more spacious.
Here's everything we updated:
Custom Crown on Ceiling and Top of Cabinets
Trim on Bottom of Cabinets
Bead board/Chair Rail/Trim on Adjacent Walls and in Dining Room
Handmade Breakfast Bar
Painted Cabinets
New Cabinet Hardware
Subway Tile Backsplash
Added Seeded Glass to Corner Display Cabinet and Glass Shelf
Upper and Lower Cabinet Lighting
Updated Outlet Covers
New Light Fixtures
Updated Counter Top Appliances by Kitchen Aid
New Fridge
Now, for the details and some progress photos along the way. Gosh, was it messy but you can't appreciate the after photos without seeing some of the progress, right?! Here's our first materials haul from Menards – we were probably at Menards three times a week during our five week renovation. Yep, we finished it all within five weeks! Felt much longer, but that's another story….;)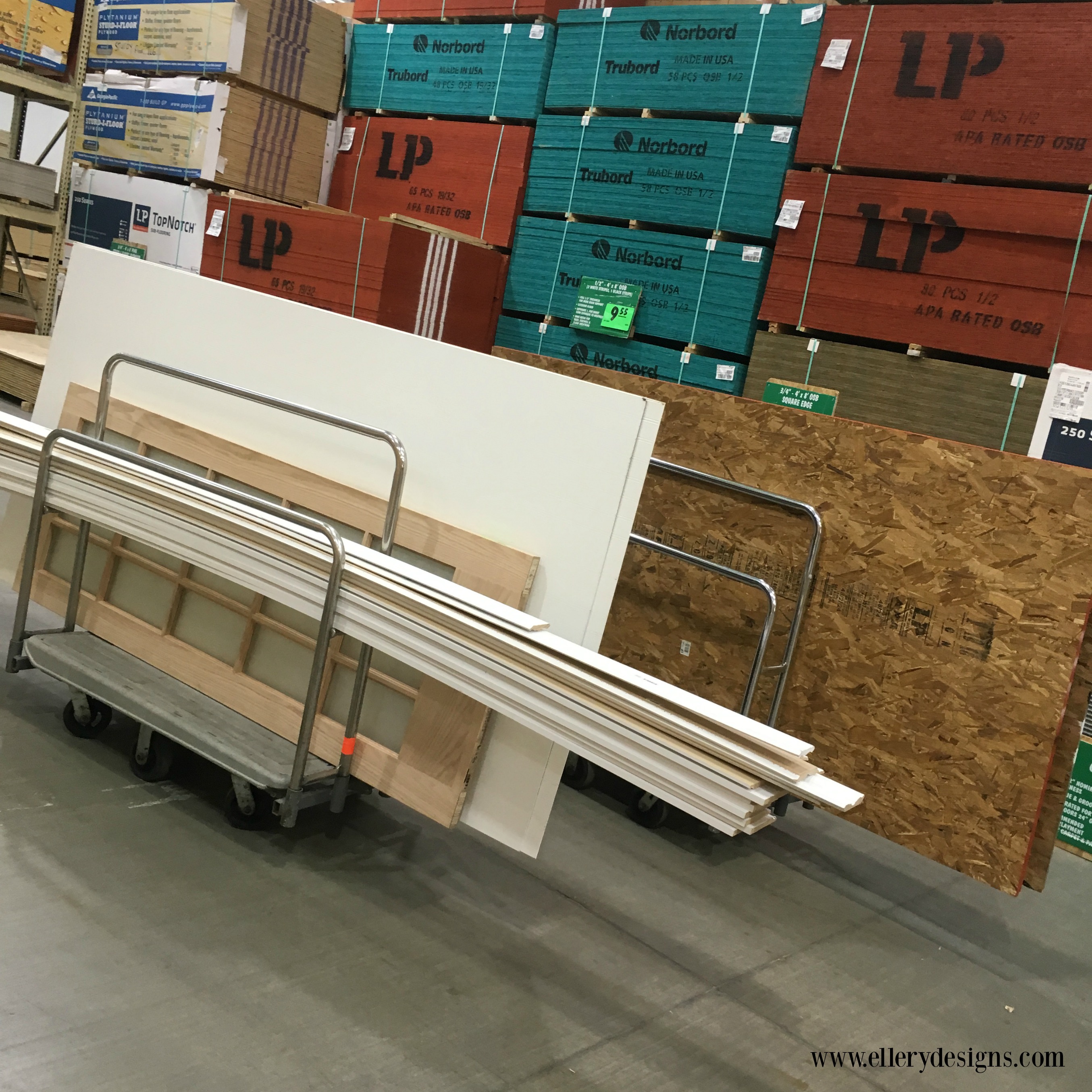 The first thing we completed was the upper crown on the wall above the cabinets – you wouldn't believe it but it's three separate pieces all nailed together to make that beautiful crown! My hubby did most of the work I just used the nail gun 😉 P.S. Filling and sanding nail holes is the worst!! Never knew how long that takes but WOW. Time consuming but worth it!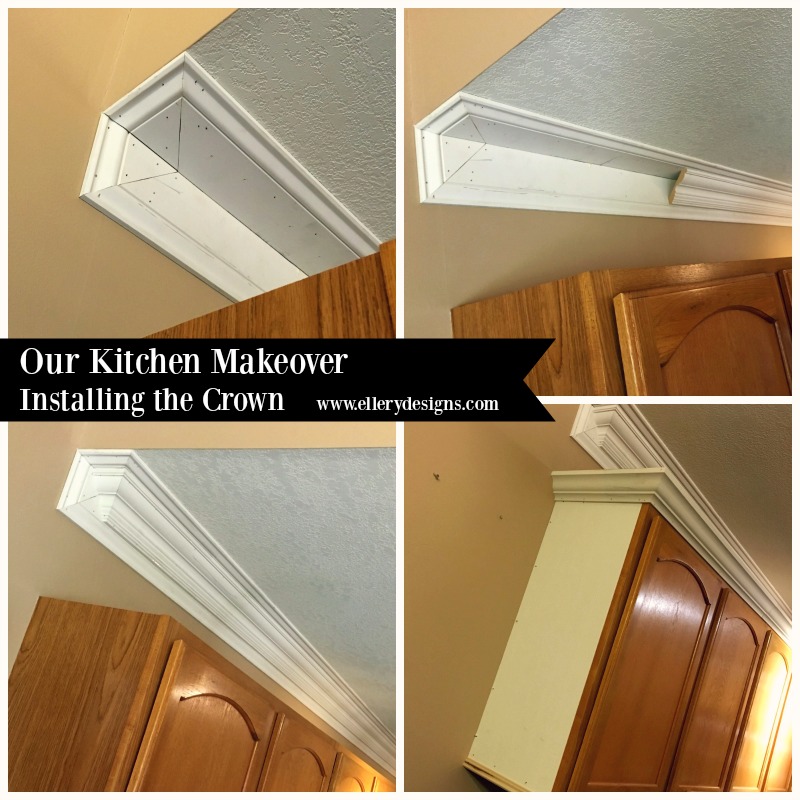 We then added crown and trim above and below the cabinets, as seen in the last photo above. Next up, he added the beadboard and custom chair rail and base trim around the mini wall in the kitchen as well as the adjoining walls in the dining room to tie everything together. I can't get over how detailed the trim work is – the hubby is quite the craftsman! You can see in this photo the detail work of this – it's not just one piece of trim my friends. It's pretty fab and I'm amazed at the process it takes to make your trim really stand out!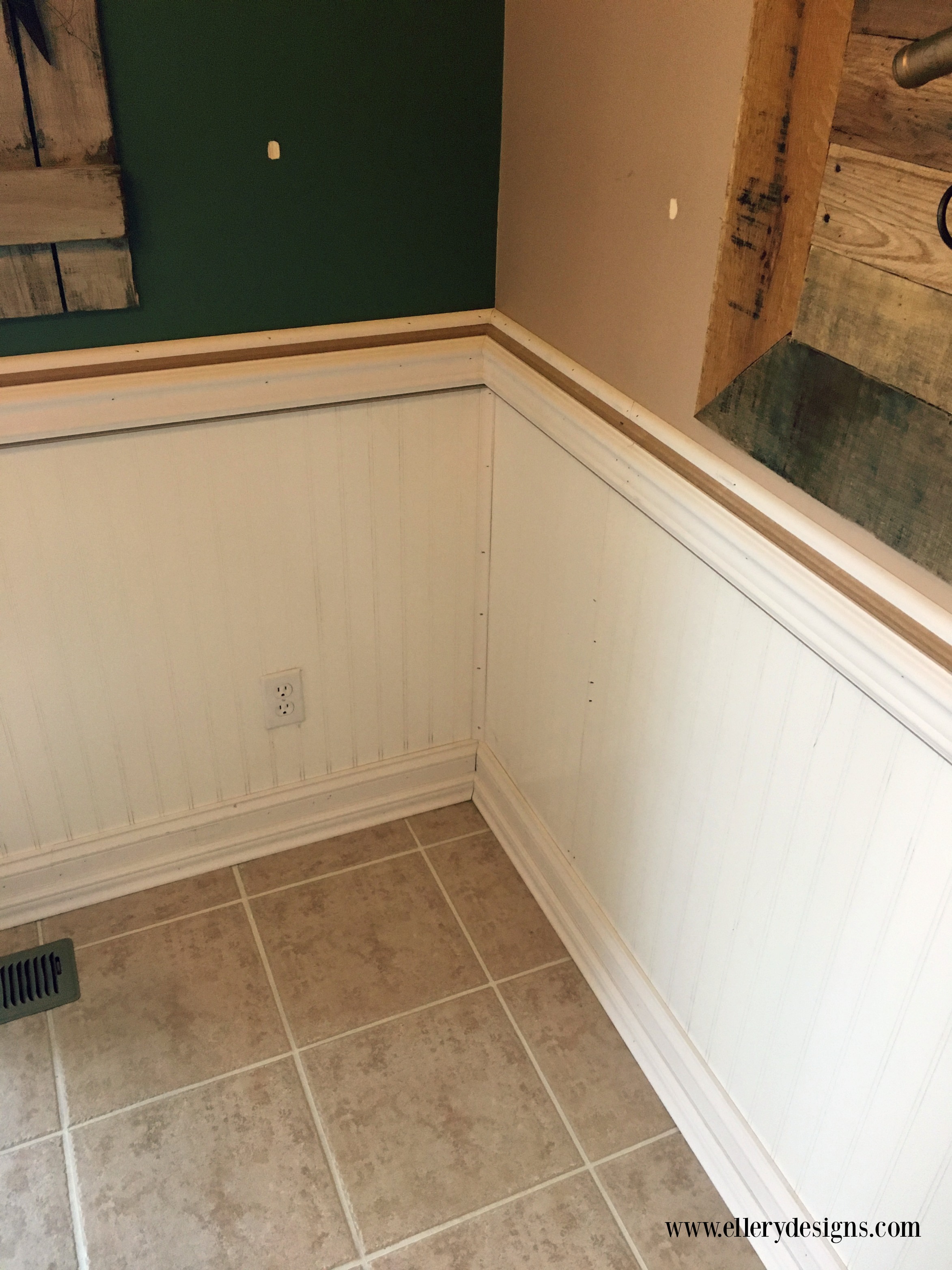 The added breakfast bar is my favorite addition to this room. Not only does it add additional seating, but the details are amazing! He laid acacia wood for the bar top, which is the same type of wood on our dining room table, which ties in perfectly with our pallet wall. Win, win!
After all the woodworking was complete, we filled alllllll the nail holes, sanded and it was ready for paint!! Yay for white and bright! We painted the cabinets using General Finishes Water Based Milk Paint Snow White Gallon
.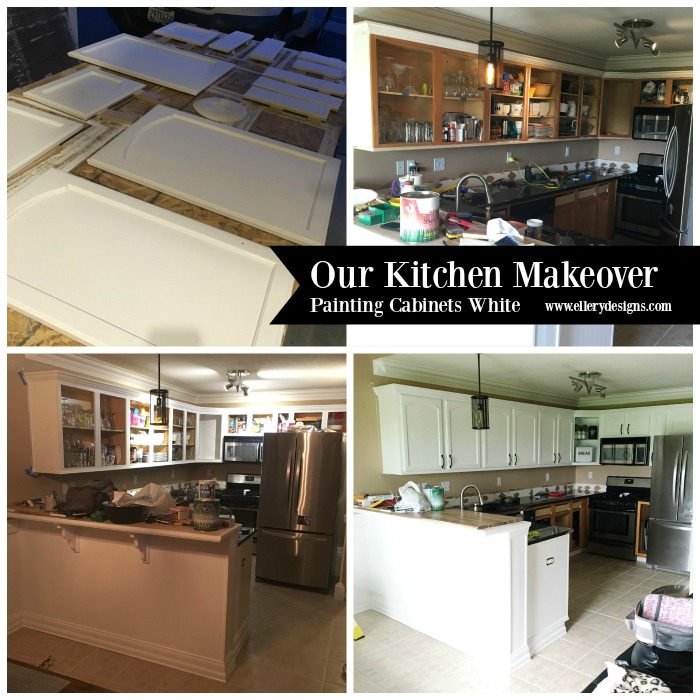 I'll be sharing ALL the details of our painted cabinets next week. It's AMAZING what a coat of paint (or three) does to this room! I'm in LOVE! It is a very time consuming process, but as you'll see soon – it is SO worth it!
I'm so glad we took the corner cabinet to our local glass shop. They added seeded glass to the door and made a matching glass shelf. I love display cabinets and the hubby added a light and it's one of my favorite parts of the room! It really breaks up the white and love that it's a spot I can decorate and change up from season to season. It wasn't cheap, but really glad we spent the extra money to do this.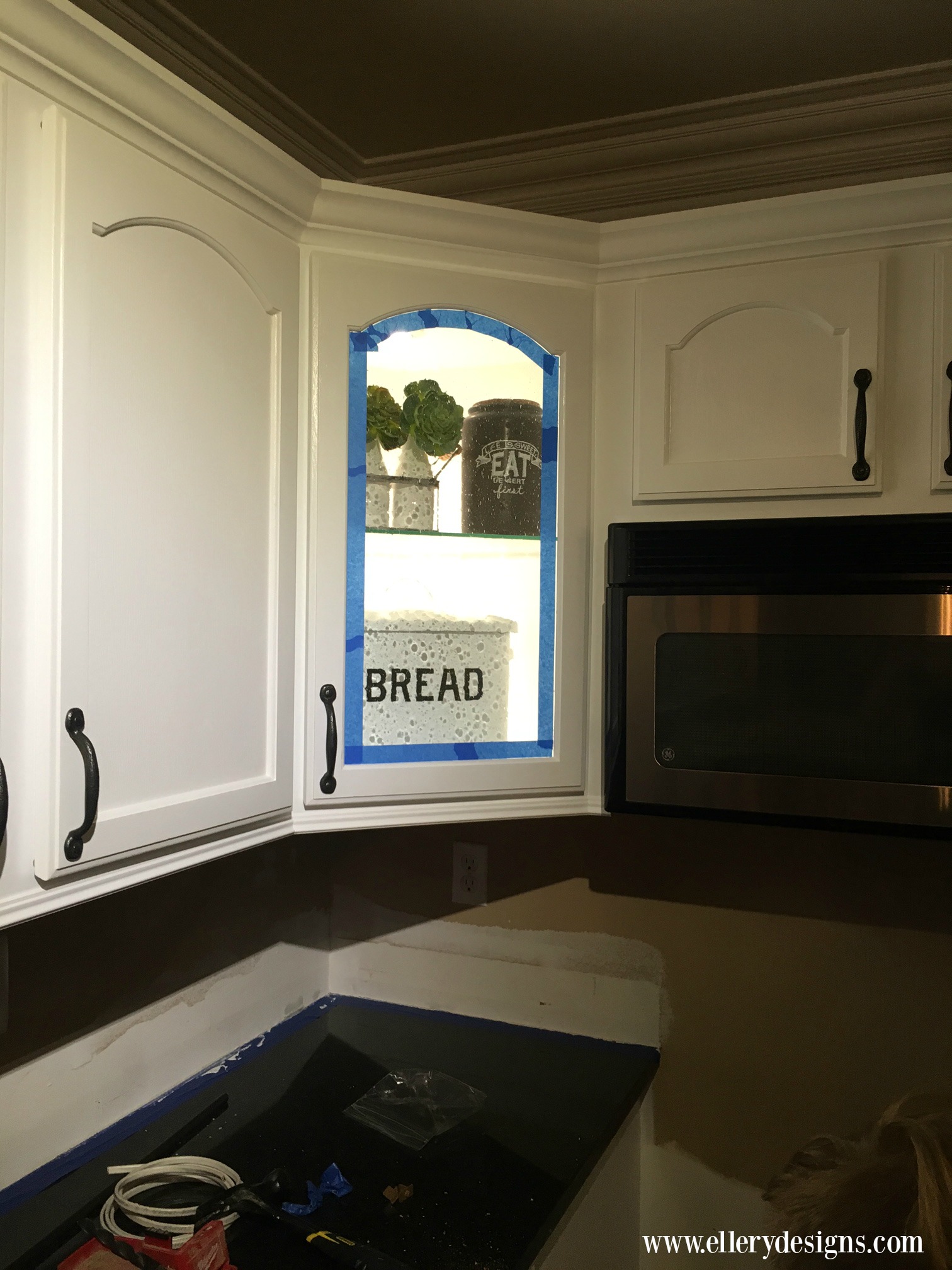 Once everything was painted, he completed the breakfast bar top and moved on to the backsplash. I'm in love with subway tile! We used white grout as well to keep with the light and bright theme of the renovation. We removed the small granite piece that went all the way across the bottom to ensure the new subway tile would be flush with the counters. Ryan was adamant about removing this and I'm glad he did! He's always right…well, most of the time! 😉 You can see in the above photos where we removed it.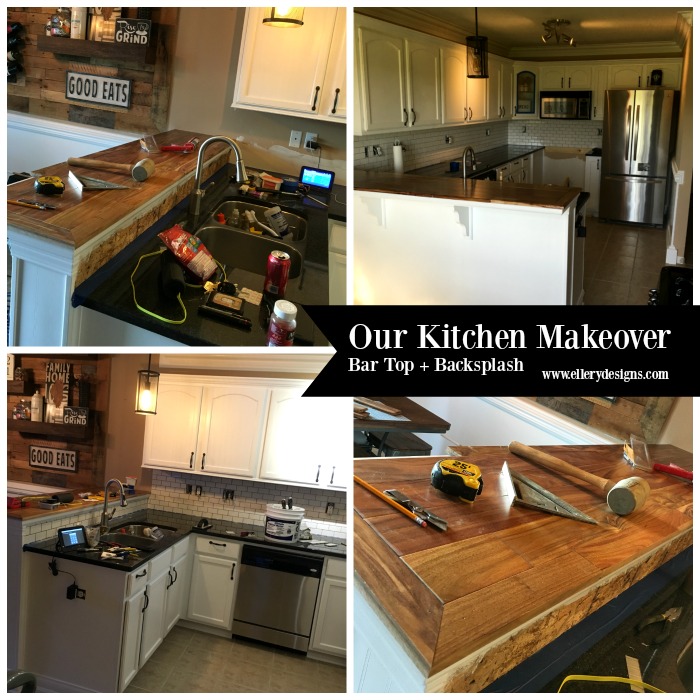 After that was installed, it was really just touching up our walls and installing the light fixtures. He also added LED Cabinet Strip Lighting above and below the cabinets that really highlight the crown and subway tiles when turned on at night. It's all controlled by a remote and you can pick the percentage of lighting – so worth the extra dollars! More on the lighting coming in a future post. The cabinet hardware I picked out from Menards are gorgeous! It's a matte black almost dark grey color that really makes the cabinets pop and goes great with our black and galvanized accents throughout the room.
OK, enough with the boring photos! I'm so excited to bring you the FULL REVEAL!! Enjoy….!!
You made it! Yay! 🙂 I would love to know – what is your favorite part of our kitchen remodel? Let me know in the comments! There are many more detailed posts to come regarding this project but hope you are left inspired! It's amazing what a little time, paint and patience does to a room transformation! Our kitchen has gone from drab to glam and can't believe it's mine!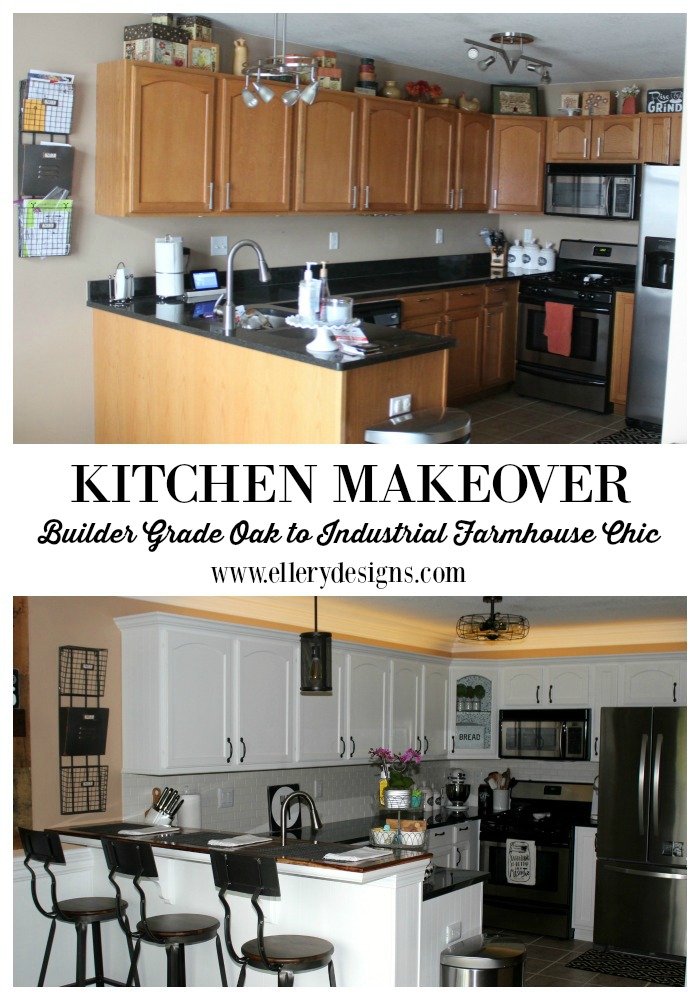 SOURCES LIST:

All wood/beadboard/trim: Menards
Subway Tile Backsplash: Menards
Cabinet Hardware: Menards
Chalkboard Canisters: Kohls