I'm
simply over-the-moon to share with you my latest project. Sorry in advance, this is a LONG {but pretty} post! 🙂 I styled this "Merry + Bright" Kids Holiday Collection for the holiday issue of Baby Lifestyles e-zine (read the issue online here). Thank you SO much, Tara + Lauren for the opportunity and the amazing feature alongside many other super talented party gals! So thrilled! It turned out amazing thanks to all of the thoughtful and completely remarkable vendors listed below. Ellie Piper with Photography Studio 37 captured it all and WOW, are the pictures ever FABULOUS! Thanks SO much Ellie! {This picture is my fave – isn't it darling?}
All of the paper products are available to purchase in my etsy shop as DIY printables for your child's holiday themed party for only $30! {Invitation, Cupcake Toppers, Food Labels, Water Bottle Labels, Banner, + lots more!}
First, the main dessert table. My husband and I spray painted a fake wreath we bought at 40% off at Hobby Lobby a lime green color (Key Lime Rust Oleum to be exact) to keep with the theme. I then wrapped ribbon around it and added some matching picks to the wreath that ended up being a main focal point to the fabric backdrop. (Thanks to my sister, Victoria who is a florist for making me the pretty bow to match – I can't make them to save my life. Ha!) My hubby also spray painted glass candlestick holders from the dollar store that I used as accents to hold large ornaments. Spray painting stuff goes a LONG way! You would be amazed at all you can do with one little can 🙂 All of the sweets were just amazing – custom cookies from The Cookie Jar, fondant cupcake toppers from Lynlee's Petite Cakes, chocolate covered oreos by Sweeties, Santa Hat Cake Pops by Lillycakes and the beautiful fondant cake made by a local gal, Brianna Weichel. Oh and I just LOVE LOVE LOVE the pink cake stand from Danielle of OliviaDru on etsy! I made the snowman donuts inspired by a photo I saw on Pinterest and also dipped marshmallows in white chocolate and added some colorful sprinkles 🙂
The second "Merry" table displayed the girls goodie bags with a matching custom label. I used teal washi tape around the fuchsia bags from Shop Sweet Lulu. The "MERRY" banner and ribbon garland was made by the fabulous Nancy of A to Zebra Celebrations. I made custom water bottle labels and even decorated my clock to match! 🙂 I took my curtains down and decorated my window using colorful ornaments and fish line for a nice display.
In the dining room, I added poms from Pom Love on my wall (to cover up the picture frames I normally have there). Each child had their own matching name cupcake topper at their place setting. I just love the matching plates and napkins I got from Polka Dot Market. The beautiful flower arrangement came from Town and Country Gardens. My hubby spray painted the vase and I added the decorative snowflake and a few lime gems so even the vase coordinated with everything! 🙂 In the corner, I made the DIY yarn ornament trees by simply wrapping yarn around foam tree forms I bought at Hobby Lobby and hot glued some sparkly decorative balls on to act as the ornaments! And a snowflake for the top – perfect! They are probably my favorite element and were SOOOO easy! Thanks to Jenn of HWTM for inspiring me to be creative with yarn 🙂 Be on the lookout for a fabulous DIY feature on those coming soon to the Living Locurto blog! (Another eeeeek!)

Last but certainly not least, the absolutely ADORABLE outfits all of the girls are donning were just BEYOND perfect! Handmade tee's by the amazing Rachel of *golden*, custom hair pieces from Frills, pettiskirts from Lilies and Things and adorable necklaces from Miss CoCo Designs. The girls all looked absolutely adorable and this would be the perfect outfit for your girly girl to wear during the holiday season or birthday party 🙂 From oldest to youngest, here are the FAB 6…

Getting a group shot of six girls ages 1-7 is pretty tough – look at the two oldest in the back though – such pro's! 🙂 The other four are like, "Um, not really feelin' this! Can we eat the sweets now?" Haha 🙂 Thank you to Sydney, Annabelle, Mindy, Presley, Tinley + my daughter, Cami, for being the gorgeous little models for this shoot. Thank you to their mama's, especially, for letting them be a part of this fun day! I think the shoot was realistic enough they all thought they were at a Christmas party before Halloween 🙂 So much fun was had by all and I can honestly say this is by far my favorite styled shoot to date – I just love this time of year!
Last but certainly not least, a HUGE THANK YOU to all of the fabulous vendors for your amazing products – it wouldn't have been possible without your remarkable talent! I hope this post helped inspire you to throw a kids holiday party for your little ones. If you do, please send me your photos, I'd LOVE to see them! 🙂
Vendor Credits
Cake Stand: OliviaDru
Plates/Napkins/Polka Dot Balloons: Polka Dot Market
Milk Bottles/Fuchsia Treat Bags/Straws/Tissue Garland: Shop Sweet Lulu
Tissue Poms: Pom Love
Ornaments + Bright Trees on Dessert Table: Hobby Lobby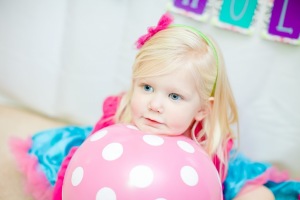 Phew! Is your head leaning on a balloon too? I thought so 😉 Well, you made it to the end of this long post 🙂 I hope it put a smile on your face and inspired you to throw a holiday party for your kiddos. I would just LOVE it if you would kindly leave me a comment with your favorite thing from this party. Thanks so much for reading! Happy Holidays!!! XO, m
Linked up: