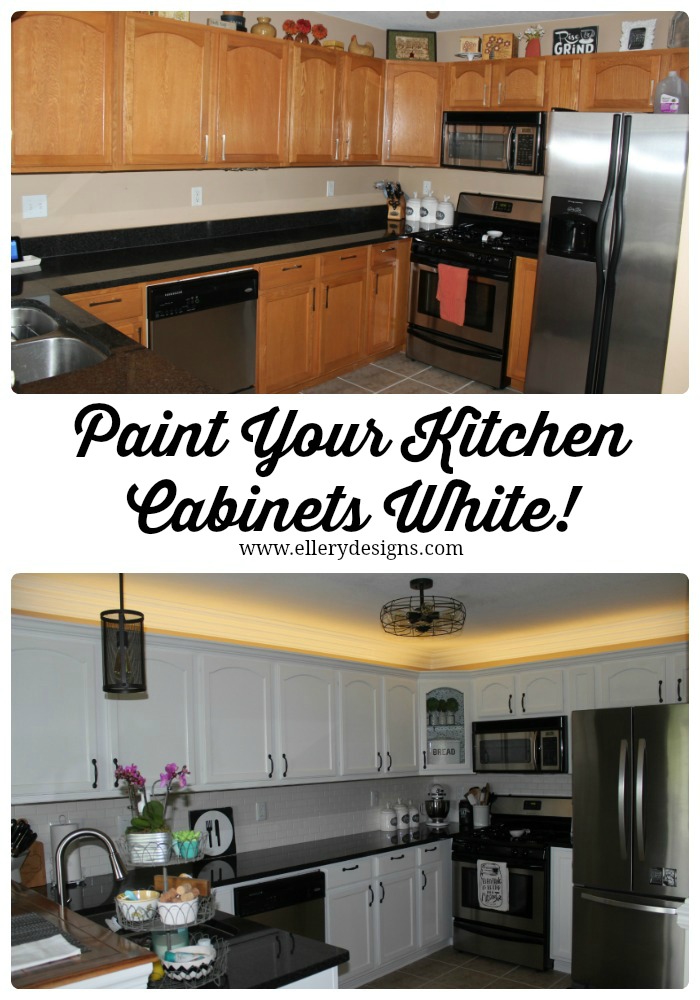 I'm so excited to share with you the best way to paint your cabinets white! (or any color, really but white was the look we were going for.) Snow White Milk Paint by General Finishes to be exact. After researching my options I felt this was the best fit! Light and bright kitchens are ever so popular right now and it is AMAZING what a coat of paint does to a room! You can see our complete kitchen renovation here.
Now this is quite the project you guys. A tedious project but BEYOND worth it! I did a lot of research and while I don't like to say people are wrong, let me tell you don't believe everything you read. We went through a lot of trial and error before we found how to achieve beautiful results.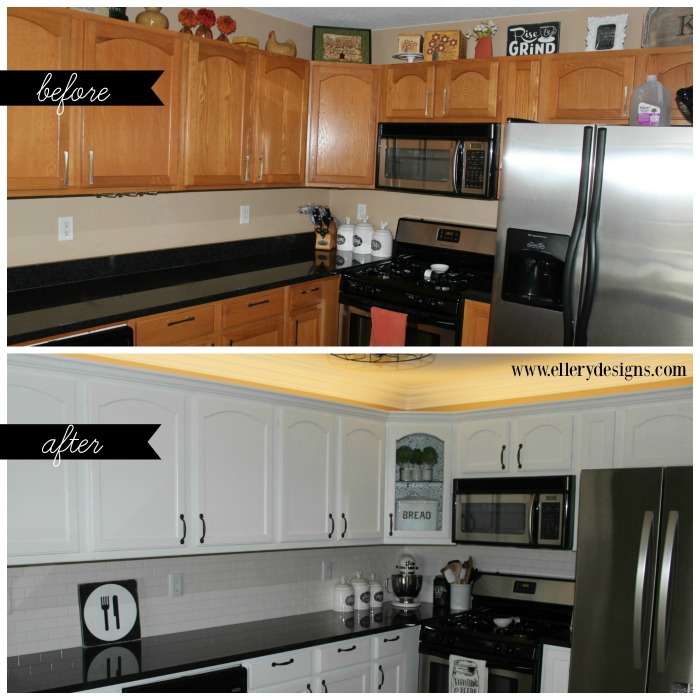 Materials:
Top Coat – General Finishes High Performance Top Coat in Satin
Denatured Alcohol
Paint Brushes – we like Purdy brand the best bought at Menards (they are more pricey but worth it)
Foam Roller (not a big one – small one worked best like this one.)
Primer (GF Milk Paint does not require Primer but we did this extra step to ensure the best result)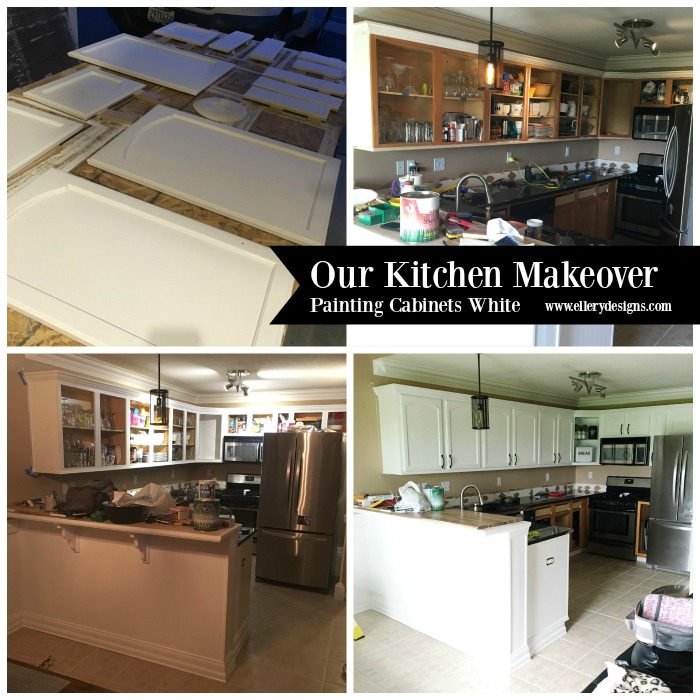 STEPS:
Remove current hardware from cabinets.
Clean your cabinets by using 1/2 denatured alcohol and half water. (I put in a spray bottle and cleaned using a scotch brite pad and let dry for several hours)
Remove cabinets/drawers – we started with the top cabinets. Once those were fully completed, we moved on to the bottom.
Sand cabinet doors/drawers and cabinet box using sanding pads and sandpaper. Be sure to sand really well near the handles or where you touch the cabinets the most – we found these spots needed most sanding b/c of the oils released from your hands. We sanded really well and did not need to sand in between coats of paint.
Clean off cabinets really well to make sure there is no left over sanding residue, etc. before painting. Tack cloths work great for this.
Prime cabinets. HERE ARE THE IMPORTANT STEPS: We brushed on the paint with our Purdy paintbrushes and then back rolled them all using a foam roller to eliminate brush strokes. This is the only way to eliminate brush strokes, as we tried using foam paint brushes but it did not work well for us. SO YES, it's kind of a double process but paint your cabinets with your paint brush then back roll. I uploaded a YouTube video of me doing those steps below. (Sorry for the low quality, I was doing this myself so was trying to video and paint at the same time, ha!)
Using the same technique as in the video above, paint three coats of General Finishes Milk Paint. This paint dries VERY FAST so once your done with one coat of about 8 cabinets, you can most likely move on to the second coat right after. That's what worked best for us. We painted them in our garage. Be sure to use small wooden blocks to raise your cabinets so you can wipe off the access paint on the sides or you will have messy drip marks on the backside and it won't be a good starting part when you flip them over to repeat the process. Yes, four coats on each side is time consuming but it turned out amazing and the time put in was worth the amazing result. Again, you do not need to prime but we decided this was probably for the best.
Lastly, we used General Finishes High Performance Top Coat in Satin for the finishing coat. This is very easy to apply and we just painted it on, no back rolling.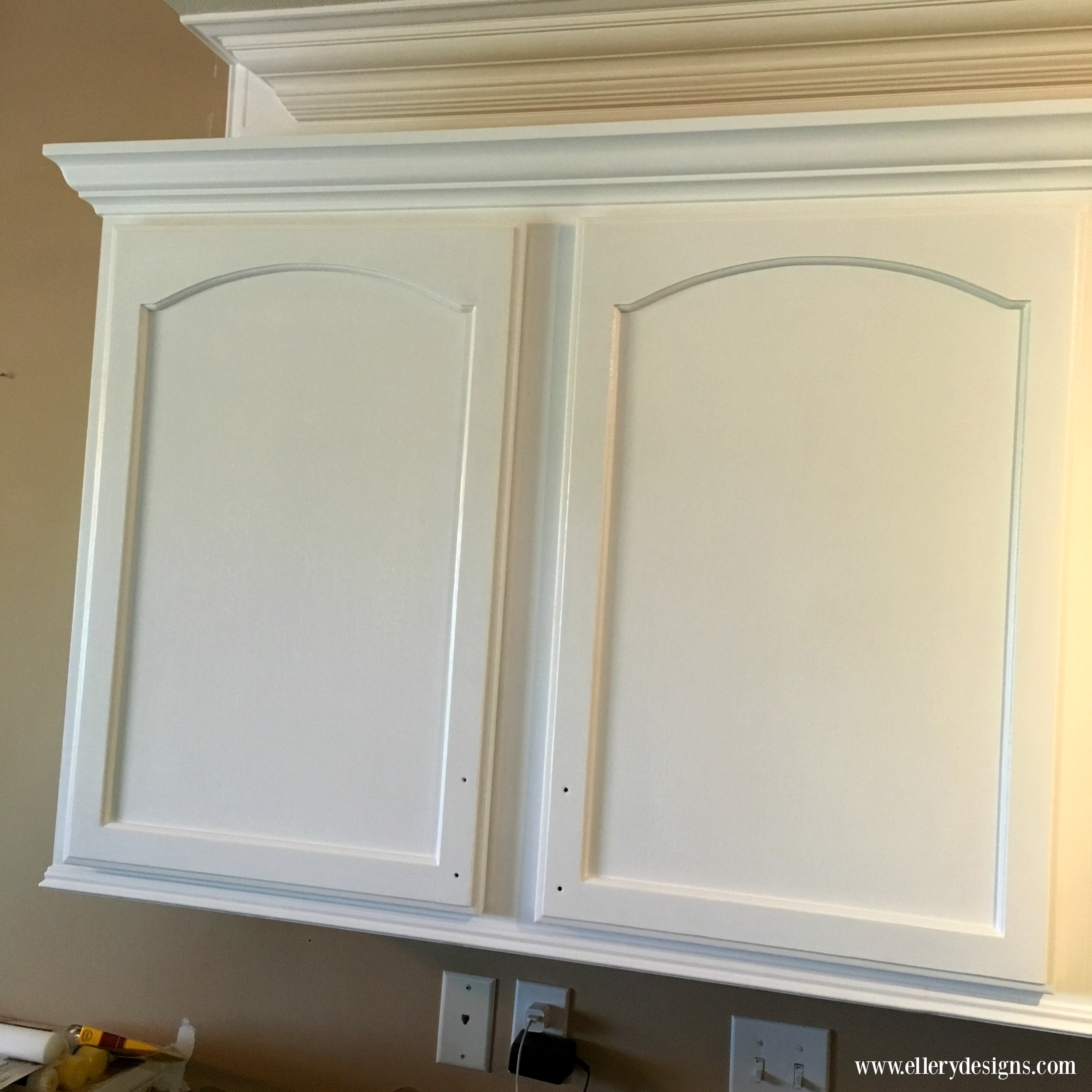 Here's a work in progress shot of them complete with the new hardware – isn't the difference so worth it? It's amazing how white paint can transform a room!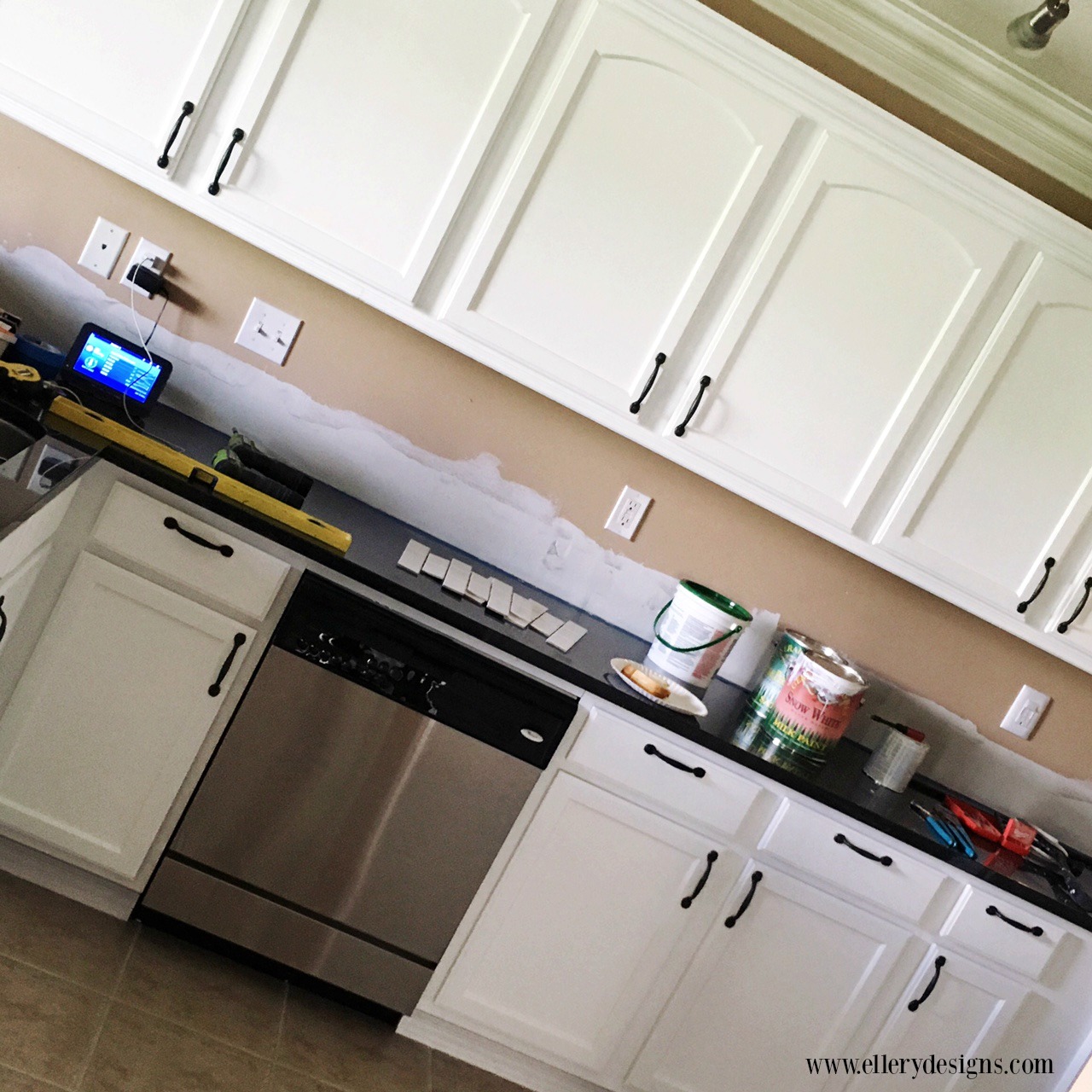 Ahhh….the white is so beautiful and I just love the clean look!! Everyone that comes over can't believe it's the same space!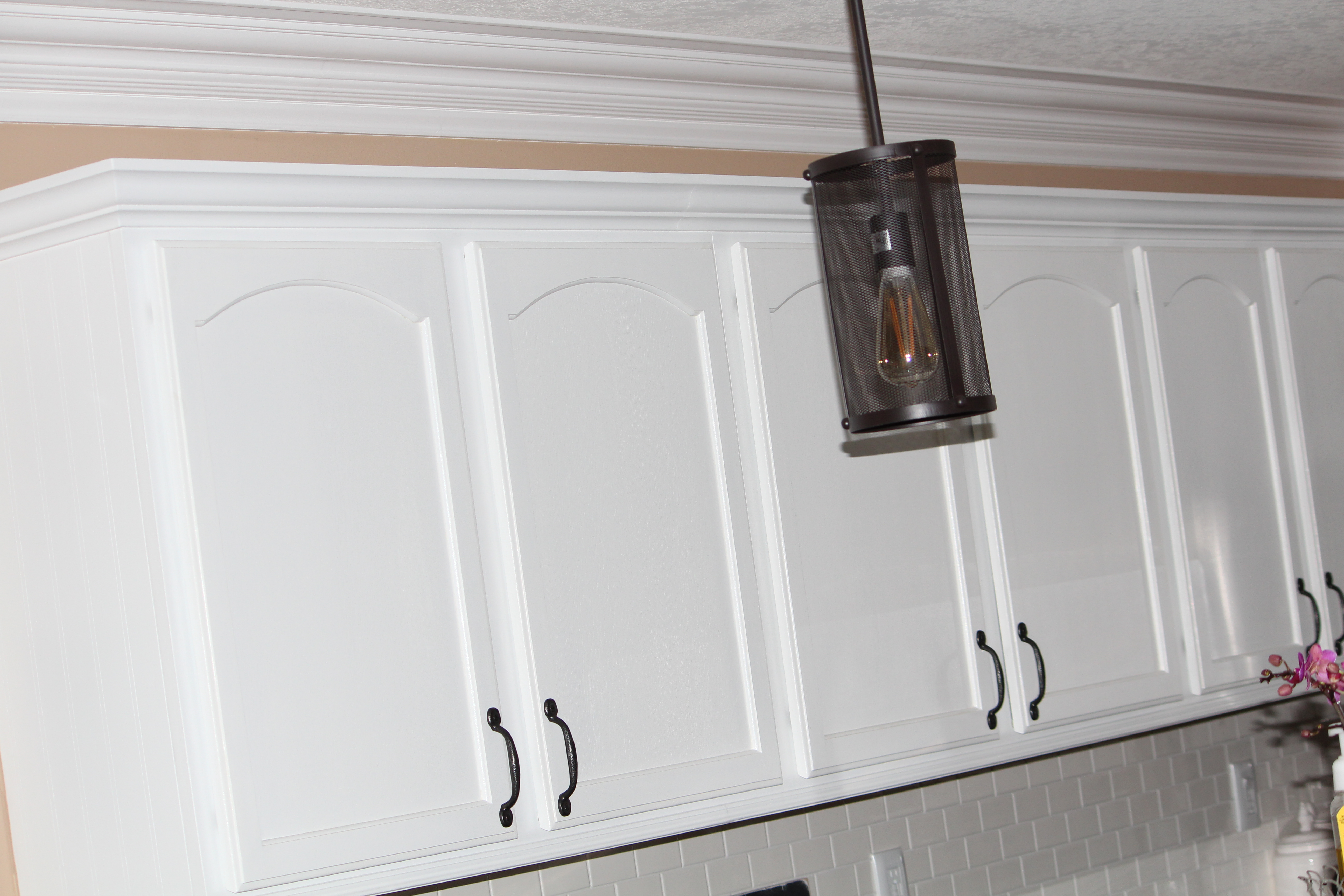 So all in all, YES this is a very tedious project. If we were just painting our cabinets, and our cabinets only, it would have been much easier. We could have completed them in two weekends. Since we tackled an entire renovation, we had a lot of bead board, crown and trim to also paint. By the time we were finished we were so over painting but were amazed at the end result! I read a lot of different articles online and to be very honest, none of them worked for us. We are true perfectionists at heart so what some people may think looks good, we did not find looked good so through trial and error, we came up with the technique listed above that worked best for us. Yes, a few extra steps but it was SO worth it! I hope you enjoyed our transformation and if you're up for the makeover, be sure to send me photos!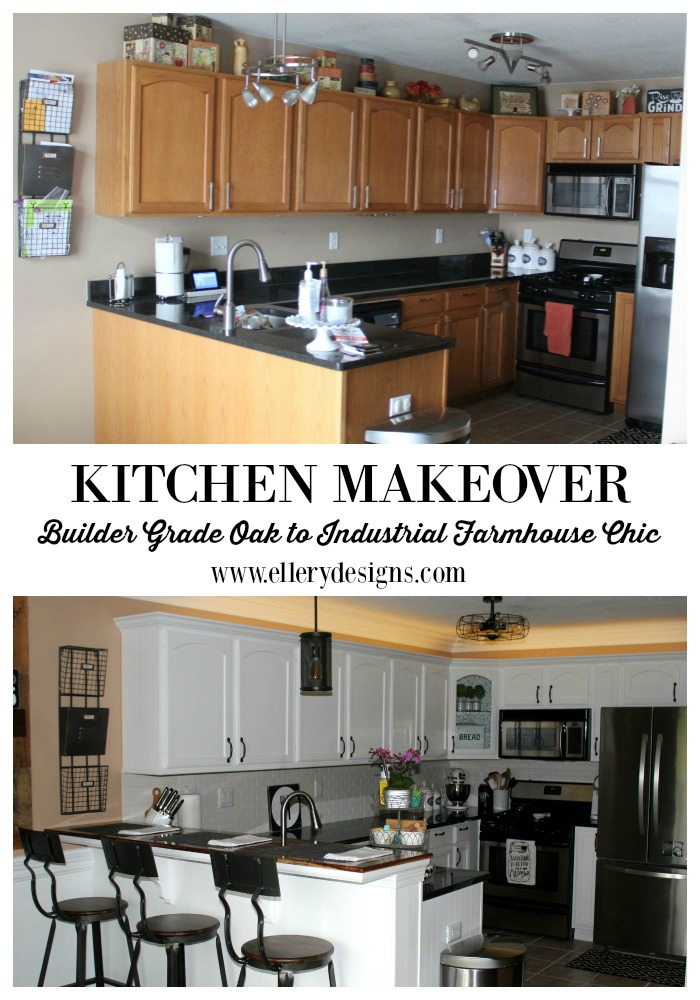 Check out the completed kitchen transformation here. Happy Painting!!