This is a sponsored conversation written by me on behalf of Hobby Lobby. The opinions and text are all mine. I'm so excited to share this super easy (under $35) DIY fall wood sign made with all items from Hobby Lobby.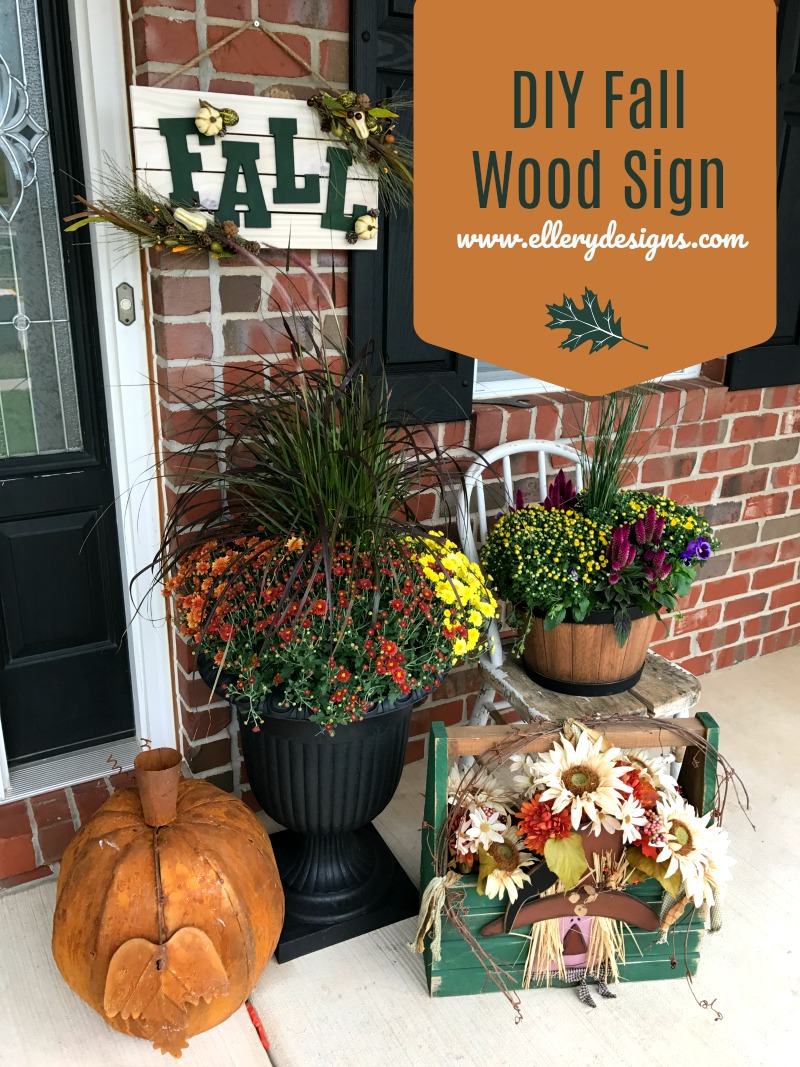 With the cooler temps here in Illinois, I'm getting the itch to decorate all things fall! Plus, I've been having fun decorating our new front porch and I wanted to add a little fall sign that welcomed our guests when they arrive. I had a pink summery sign in this spot and it just wasn't going to cut it. 😉 This sign would work great indoors, on your covered porch or how cute would this be in a fall vignette?!
When I spotted the raw wood pallet sign that already had the jute rope attached – I was like YES!! I grabbed more supplies than what I ended up using since I wasn't entirely sure the look I was going for. My first idea was to use all the typical fall colors of maroon, orange, yellow and green – but, quickly changed my mind once the wood was whitewashed and saw how simple and pretty the green, white and brown would be together! The best part – I made it myself! Don't get me wrong, I love buying pre-made signs but this just makes me happy every time I come home and see it hanging on our front porch!
Materials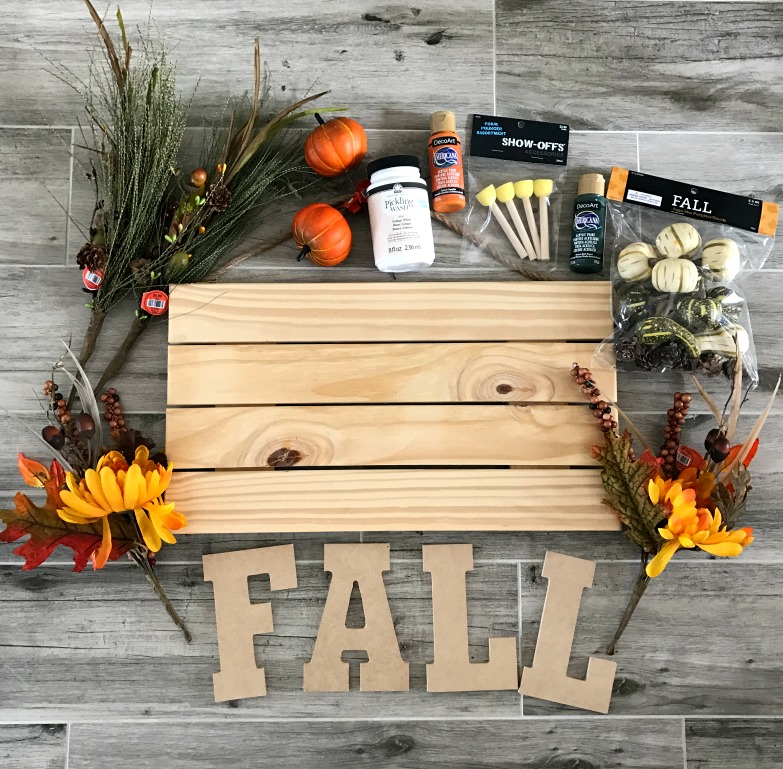 Raw Wood Pallet Sign ($13.99 on sale 30% off =$9.79)
Wood Letters ($1.49 each = $5.96)
Cottage White Wash Paint (5.99 used my 40% coupon =$3.59)
Hauser Dark Green Americana Acrylic Paint ($1.19)
Foam Brush ($3.99)
Fall Floral Bushes/Sprays (2 @2.39 = $4.78)
Bag of Pumpkins/Gourds/Pinecones ($5.99 on sale 40% off =$3.59)
Hot Glue Gun (Already had)
TOTAL: $32.89
Make Your DIY Fall Wood Sign
First, I whitewashed the pallet. I quickly painted one coat and gently wiped off with a soft towel. I didn't want a vibrant white and this paint did the trick of just lightly covering the raw wood! I've never used a product like this before – I think it may be my new fav!
Next, I painted the letters green using the foam brushes – seriously only took a few minutes and dried super quick! Then I hot glued the letters on the wood pallet. Then I just placed the floral bush picks around the edge of my sign – I just bent back the stems. It really can't get any simpler! If you know me and my DIY projects, then you know I like them to be quick and easy! I added a few extra pumpkins, gourds and pine cones around to jazz it up. A little bit goes a long way, and there's nothing better than a hot glue gun when it comes to DIY.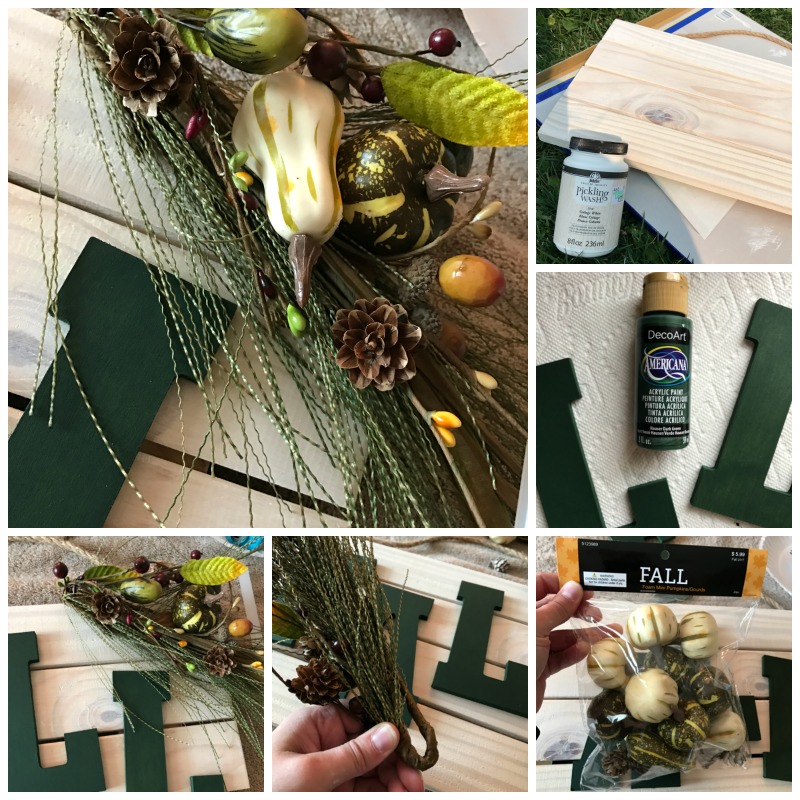 Like I said, I did buy more than I actually used. I like the simplistic look of the bold hunter green and off-white. Your options are really endless when it comes to this sign since hobby lobby has TONS of different fall floral sprays/picks to choose from. Leaves, sunflowers, pumpkins, oh my! Add more pumpkins, keep it simple – whatever works best for you and your taste!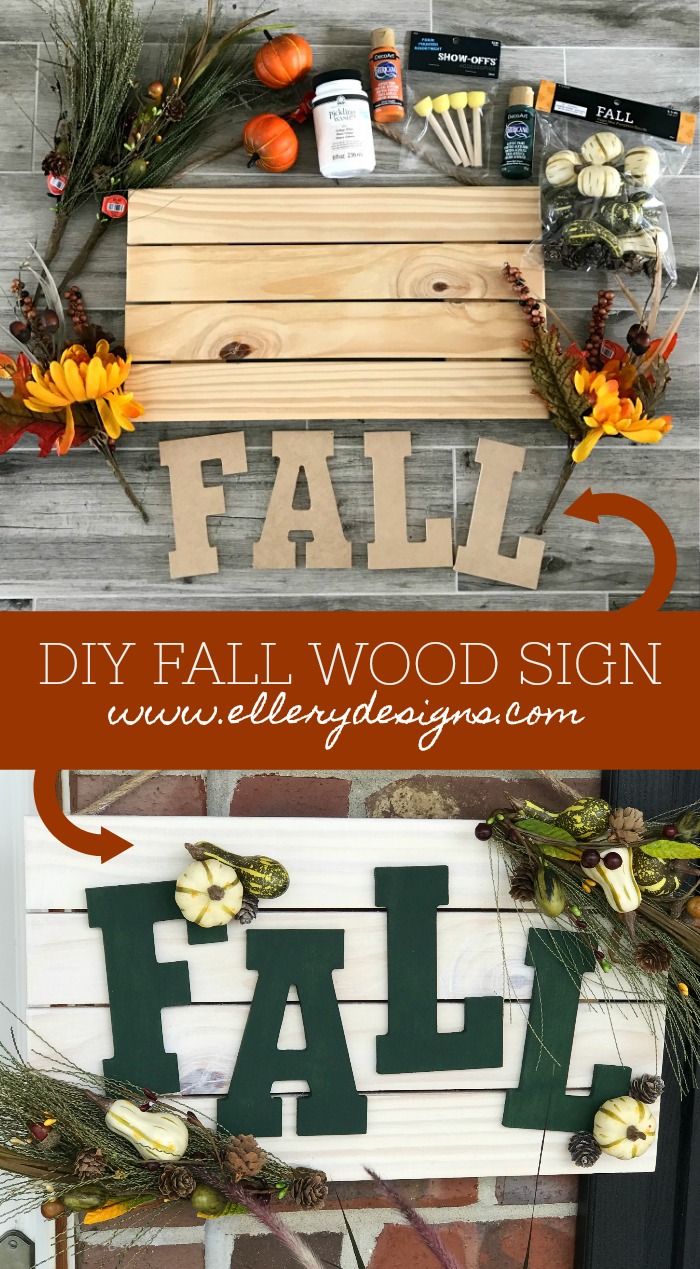 What do you think of my DIY fall wood sign? I hope this gets you excited for the season. Give it a try – it's such a simple DIY! See what I did there?! 😉 Before you make your Hobby Lobby run, don't forget to grab the coupon code….