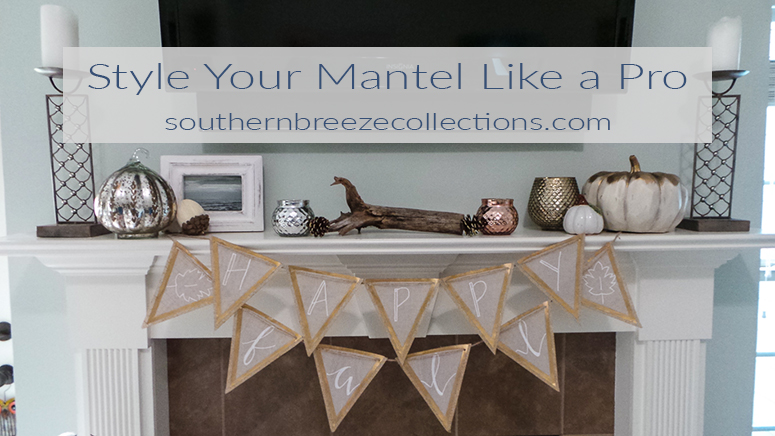 Hi! Anna here from Southern Breeze Collections. I always seem to get a lot of compliments from friends and family, when they come into my home, about how they love how I decorate and how it seems that everything is so put together. Well, I'm the first to admit that everything is not always put together! 😉 However, I think there are just a few easy tips that anyone can use to decorate a space and make it look like a photo in a magazine. That's why I'm so excited to share my top 5 tips to Style Your Mantel Like a Pro!
These tips are specifically for mantel styling, but they would work in other areas too, like shelving and small accent tables. These are my personal favorites and exact steps I use when working in my own home. So, who's ready to Style Your Mantel Like a Pro? Let's get started.
Create a focal point

– I like to use a mix of a few things. I often use a banner hanging from the front of the mantel along with a sign or maybe a mirror right in the middle of the wall. Our TV hangs above our fireplace (this was not my idea ;)) so I have to get creative with what I can use as a focal point. I either use the banner alone or use a horizontal sign or other object that can fit right under the sound bar that's connected to our TV. However, if you're luckier than me and do not have a TV above you're mantle, go for a large piece like a mirror or some kind of artwork. I just love how an old, chippy window looks in the center of a mantel. Oh, I'm so jealous of you people with free wall space above your mantel. Why did I ever give in to my hubby's request for the TV on that wall?? 😉

Anchor it with similar height objects towards each end

– I almost always use some form of candle sticks on each end of our mantle. However, it's really fun to play around with other tall objects like vases full of flowers, cotton stems, branches, etc. The items don't have to match either. As long as the heights are similar on each item it will look unified and anchored. I like more of a symmetric feel to my mantel. This is a good spot to switch it up if you like the asymmetric style. If you want that style, you could use varying height objects and maybe use multiple objects on each side.

Bundle different size objects together

– For filler items I like to use a mix of small objects going inward from my tall anchor points (tip #2). These objects can be books, other decor items, small vases/votive holders, etc. For example, during the fall I mix and match different sized pumpkins and pine cones together.

Add a natural element

– I like to add some kind of natural element within my mantle style. This can be branches or flowers in a tall vase (tip #2) or something else that's unexpected. For example, in the spring and even fall, I like to place a small piece of driftwood across the center of the mantel. This really centers everything and brings it together with a touch of nature. I'm also a coastal fanatic so I will take any chance I can get to create a coastal farmhouse feel. During the holidays, I use garland across my mantle. It's mostly fake, but I have big Leyland Cypress trees in my backyard so I will cut some branches off of those and incorporate those around my garland as well. There are a ton of easy ways to incorporate a natural element into your mantle. So bring a little nature indoors.

Add simple finishing touches

– I love to add a lot of candle light to my mantle. Before we hung the TV on that wall I could use all sorts of candles, but I have to be extra careful where I place candles now and cautious of their size. One of my favorite items I have are some metallic votive holders I got from Target. They are the perfect size for tea lights which are small enough that they won't harm our TV. I also fill in space with other small items if I feel it's necessary to add a little something extra to the the bundled decor items (tip #3). Overall, I believe less is more so I try not to go too crazy with the finishing touches. A little white space is always good!
Here are some photos of my previous styled mantels for various seasons in my home.
I hope you've enjoyed my top 5 tips to Style Your Mantel Like a Pro. Be sure to stop by my blog and check out my latest DIY ideas. You'll love my DIY Fall Succulent Centerpiece.