WOW!! I can't believe it's already MAY! So crazy how fast time flies by! Well, Cami's Elmo Inspired 2nd Birthday Party has come and gone and I cannot thank you all enough for all of your kind words, etc. about the party! It was such a fun day and I had so much fun planning it! I'm hoping to have some pretty amazingly fun news to share within the next few weeks so cross your fingers for me and I'll keep you posted! 😉
Easter was a fun day but we were all pretty exhausted being the day after Cami's Party. Isn't she just the cutest? My mother-in-law setup a cute outdoor Egg Hunt! LOVE the banner, of course! 🙂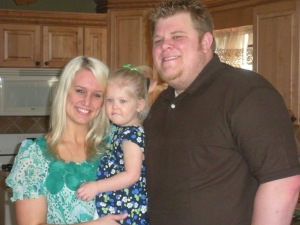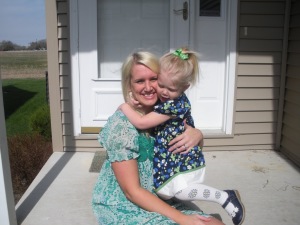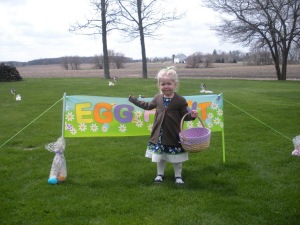 Also, I just got word that my interview will be featured on Circle of Mom's next week for being named a Top 25 Party Plannin' Mom!! I'm SO excited and I can't wait to read all of the other winning interviews since many of them are my most favorite party planners/bloggers that I gather much of my inspiration from 🙂 I'll keep you posted and share the link as soon as I have it! 🙂 Thanks again to all who voted! My fans are the BEST!!
I've been busy as a bee these past few weeks with party invitations and wedding orders! I just love it! I assembled three pocketfold style invites this past weekend and I forgot how long those take (but of course, they are so pretty!) One is a zig-zag invite that is by far my new favorite style ever! Isn't it FAB?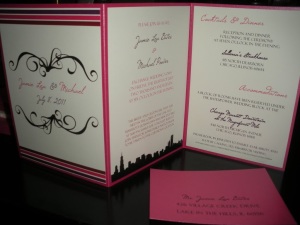 I'm also having so much fun creating all of the paper products for my BFF's Wedding this June! I'm saving everything to share til after the Wedding….can't wait for you to see – she has the cutest ideas and it's going to be such a beautiful wedding ! Her theme is Vintage Country with the newly popular gray and yellow color theme. LOVE.
My etsy shop is also keeping me busy and ever since Cami's party, my Elmo invite has become increasingly popular! So fun! I've been wanting to create a new Mickey/Minnie inspired invite because really, every toddler LOVES Mickey Mouse Clubhouse it seems, so here's the invite I created that was inspired from the Elmo invite! It's listed in my
etsy shop
so go check it out and of course, the colors can be changed to red for Mickey 🙂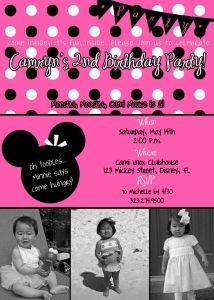 I feel like I could talk about a million things but I got to get back to editing proofs, etc. before my hair falls out! 🙂 Thank you for following and I'll be back soon to share some exciting news (hopefully!)