Couldn't be happier that the month of March is over. Between my daughter and I, one of us were sick the entire month and actually we just started another cold/sinus infection. Spring, are you there?! Cannot wait for warmer weather!!
Well, it's my FAVORITE month! For the past two years that is 🙂 Little Miss Cami is going to be TWO on the 20th and her party is on the 23rd! We are so excited! I'm busy working on lots of fun things for her Elmo themed birthday party! I'm putting together a full sweets table with lots of yummy goodies in her party colors (red/orange/yellow/pink). It's a fun, girlie twist on the traditional elmo colors. Since I don't blog nearly as often as I update on facebook here is the invite…..Ta-da! It's a huge hit in my etsy shop so far too! Love it! 🙂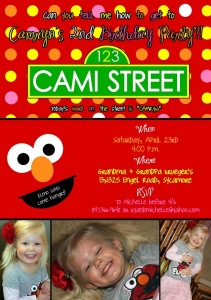 This past weekend my hubby was busy spray painting in the garage a little project I had wanted to do for what seemed like forever. 🙂 I found the overly creative idea on one of my favorite blogs, Joy's Hope. Be sure to check it out if you haven't already. She even gives a full step-by-step tutorial! I wrote her thanking her for the awesome idea and a picture of our finished product and she wrote me back that "Elmo would be proud!". Love it. It was super easy, fun and cheap! Simply purchase glass candlestick holders and round or oval silver trays from the dollar store and spray paint in your party colors to create a pretty cupcake stand in your party colors! Didn't it turn out perfect? We did another one in alternating colors. Can't wait to use them!! Ryan was even impressed when they were all done 🙂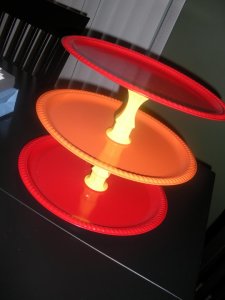 LOTS of fun things planned for this party! I know most people would think why do you waste so much time planning a party that she won't remember, spend so much time on one party, etc. (I've heard it all)? Well, b/c I have a passion to be creative and mostly, I just LOVE to see her happy and it's not about what she will remember but the excitement she will have on the actual day with her closest family and friends and of course, her littlest BFF, Ry-Ry. I'm going to be showing lots of sneak peaks over the next few weeks on my FB page so if you're not a fan already, be sure to "Like" my page! (www.facebook.com/idoinvitationsbymichelle)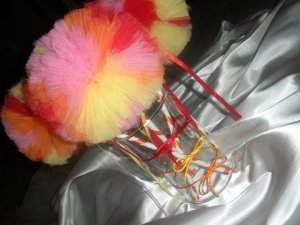 Tulle Pom Wands courtesy of The Sugared Ribbon on etsy. I just spiced up the vase with some pretty rope ribbon 🙂 I got her custom elmo tee in the mail a couple of weeks ago and about screamed with excitement! It's honestly the cutest little shirt and I can't wait for her to wear it! If you don't know about *golden* yet, you need to check her out! She creates the most amazing tee's for any party theme or holiday! I'm addicted 🙂
I have sweets coming from all over and cannot wait to see what these fabulous ladies whip together! I will talk more about them in my next blog post 🙂 Gorgeous cookies from Allyson Jane, Cupcakes and Cake Pops from Lillycakes, Cake from Sweet and Sassy Desserts, Oreo Pops from Sweeties and more fabulous cookies from The Cookie Jar.
XOXO,
Michelle